I love Craig's List. I love it for many reasons – I won't count all the ways I love it, suffice it to say that it's a great public service as well as a prime way to drive traffic to one's real-estate related web site. 🙂
However, Craig's List is seen by some predators as a way to defraud, scam, and bamboozle. There's a rental scam going around on Craig's List, where someone tries to rent out a house they do not own, one which they saw for sale on Craig's List. They use the picture from the ad on Craig's List, and fashion a new, fraudulent ad of their own.
I have a sweet property listed for sale on Monterey Avenue in Soquel, and a couple of people contacted me yesterday about this scam – they had been given the property address by the scammer, and they went and drove by the property, whereupon they saw my "for sale" sign and contacted me, asking if it was for rent or not.
[Home-Price-Callout]
One of these people was kind enough to forward the e-mail correspondence she'd had with the scammer. The scammer had provided her with "proof" that he was indeed the lawful owner of the property. Here's the proof: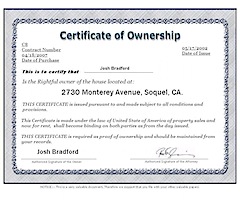 and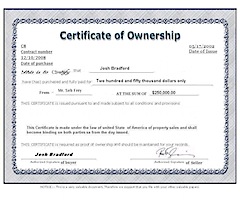 Those are pretty nifty Photoshop jobs, but they are not anything that would prove ownership of a piece of property. Ownership is is established by the use of deeds in California, not Certificates of Ownership.
Please don't fall victim to Craigslist rental scams! The scammer asks the victims to proceed to a Western Union and send in the deposit money, and upon receipt of which he will make arrangements for you to get the keys. Except that since he's not the real owner, you won't get any keys, you'll just end up a lot lighter in the wallet.