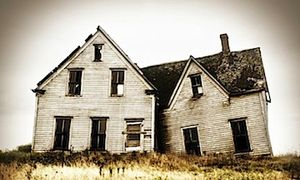 What do Appalachia and Santa Cruz have in common? I've never been to Appalachia so I really couldn't tell you. I hear it's beautiful though. Natural beauty aside, another thing that Appalachia and Santa Cruz share is that FHA financing is available in both. And if it's good enough for Appalachia, it must be good for Santa Cruz too.
It's been a long time since there's been FHA funding available in Santa Cruz. It used to be that home prices were just too high in Santa Cruz to qualify for an FHA loan. There's a little space on the California Residential Purchase Agreement form under the "financing" section to specify whether or not you're using an FHA loan, but until recently, I had never seen that box checked.
The dramatic drop in some property values in Santa Cruz county has opened up a world of opportunity for many buyers that was simply out of reach before. Unfortunately, this new world isn't as glossy as the old world of sky-high prices for tumbledown shacks. Many parts of Santa Cruz county have been declared as declining markets by many lenders, and those lenders are requiring stiffer down payments, which serve to put this less-expensive real estate out of the hands of would-be buyers.
Don't you worry – about a thing – 'cause every little thing's gonna be alright. Your Uncle Sam is crooning I Will Take You Home. You see, FHA loan limits for California have been increased greatly, and now come all the way up to $727,750 for single-family residences. This is a temporary increase, and was passed as part of the Economic Stimulus Act of 2008.
So what's the deal with an FHA loan? How is it going to save the bacon of would-be home-buyers? For one, FHA loans are not subject to these "declining markets" down payment requirements. With an FHA loan, you need just a paltry 3% down. In fact, using CHDAP (California Housing Down Payment Assistance Program), you can get a loan for that 3%, too – yeah baby, I'm talkin' 100% financing, woo hoo! And you thought the party was over.
Before you run right down to the bank, though, know this: there's a catch. There's always a catch. The big catch is that the FHA requires that the property meet certain minimum standards. There's quite a few FHA minimum appraisal standards to meet, actually. It's nice to have a house that meets FHA appraisal standards, of course – but what if it doesn't? Who is going to pay, the seller? You? You're probably not going to want to pay – you may not be able to afford to pay, since you're low on cash, and that's the reason you went with an FHA loan in the first place.
The California Residential Purchase Agreement has a space in the FHA financing paragraph to enter how much the seller will have to pay for required FHA repairs – this is given as an amount "not to exceed." But what if the repair costs exceed that amount? Zoinks.
Another bummer is that FHA requires mortgage insurance. They'll take 1.5% right up front on the loan amount – so if you're buying a $400,000 house they will want $6,000 to pay for the insurance. Not only that, they'll want 0.5% of the loan amount per year – so on a $400,000 loan, that's another $167/month added to your home payment. I wouldn't worry so much about the initial 1.5% payment, though – in a market like this, you can probably get the seller to pay for it.
Time for the proverbial bottom line: if you don't have a lot of cash for a down payment, and you're buying a pretty solid home that likely meets FHA appraisal standards, and you think you can get the seller to pay your FHA mortgage insurance – an FHA loan may make sense for you. Talk to your lender – if you need a referral, please let me know!