It's that time of year again! Early in the year, inventory is low – but there's no shortage of eager buyers looking to purchase a home. While an imbalance of supply versus demand is not uncommon in the greater San Francisco Bay Area, it's especially acute early in 2020.
New inventory is trickling onto the market, and it will continue to ramp up as we get into spring. But at the moment, there's nowhere near enough new inventory to meet demand. Sellers with well-priced homes across the region are being rewarded with multiple offers from prospective purchasers.
That is of course a wonderful situation for a seller – but it's more like a nightmare for buyers. Many of these buyers will have been looking for months, even years, before they finally put an offer in on a property…only to find out that the seller has a number of competing offers to choose from.
A buyer never knows how a seller will respond in a multiple offer situation. Will they accept just one offer from the "best" buyer? Will they make counter offers to specific buyers? Will they ask all buyers to respond with their "highest and best" offer, knowing that there are multiple offers on the table? What's more, a seller can make different counter offers to different buyers, with different prices and terms.
I'm helping clients manage a few multiple-offer situations at the moment, as listing agent and as buyer's agent. Working with buyers in a multiple offer situation is especially fraught, because of course, the seller can only go into contract with one buyer. If there's ten offers on the table, there will inevitably be nine losers! What can a buyer do to give themselves an advantage in a situation like this?
Usually, the most important thing a seller considers is the price. Most sellers want the most money they can get for their properties. Of course, there are other considerations, like inspections, loan and appraisal contingencies, contingencies on the sale of the buyer's current home – the list goes on. But when a seller is reviewing offers, their eyes go first to the offer price. It's the most important thing they're going to look for in your offer, so you'll want to make sure you hit that number right.
So what is the right number? A lot of buyers want some kind of formula that will tell them how much to offer. Unfortunately, there is no formula that can give you a reliable, winning answer. However, you can mine the MLS for data which might help give you a feel for what winning bids have looked like, in the past.
A couple-few years ago, our MLS started to ask listing agents to provide the number of offers the property received, when the listing got marked as "sold." It is not mandatory to enter the number, and there is no auditing of the data that is entered. So it's not exactly rock solid data, but it's the only data we have, so I decided to take a look.
I ran numbers of Santa Clara, Monterey, and Santa Cruz counties, looking at closings within the past six months. I looked only at listings which reported at least 2 offers and which went under contract in 14 days or less. The most data was available for Santa Clara county (Silicon Valley), so this information is most significant for Silicon Valley real estate.
Santa Clara County Multiple Offers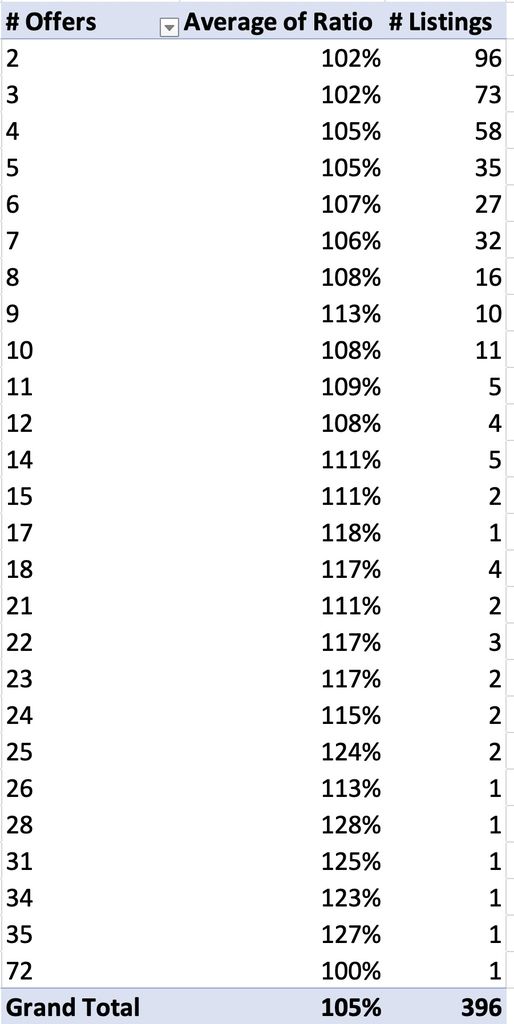 Looking at the above table, the first row shows that there were 96 listings that received 2 offers, and they sold at an average of 102% of list price (so, a home listed for $1,000,000 would sell for $1,020,000 on average when the seller received 2 offers). 73 listings received 3 offers, and they also sold for 102% of asking price, on average. There were 11 homes that received 10 offers, and they sold for 108% of asking price, on average.
Santa Cruz County Multiple Offers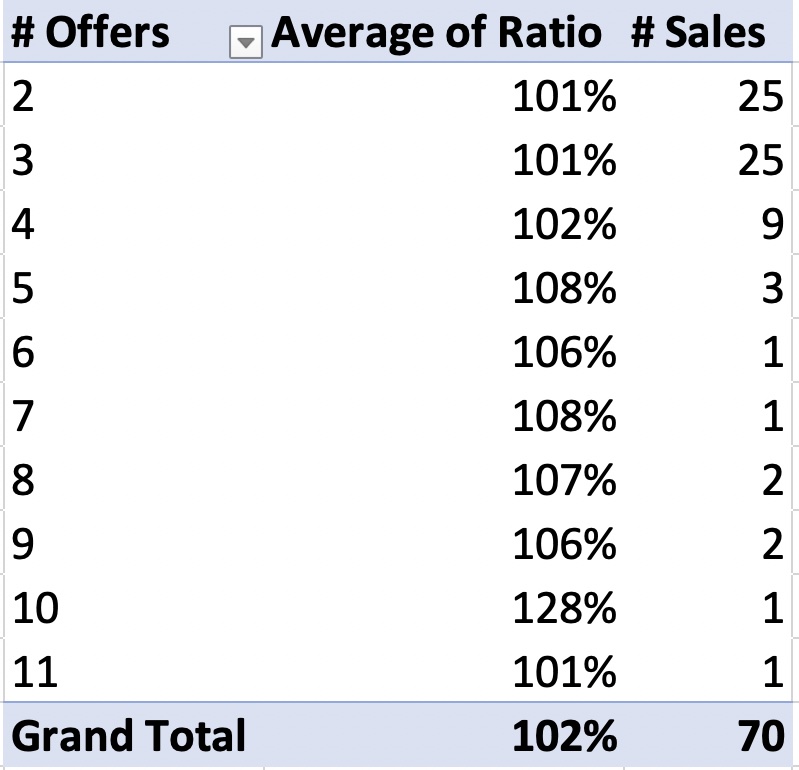 Monterey County Multiple Offers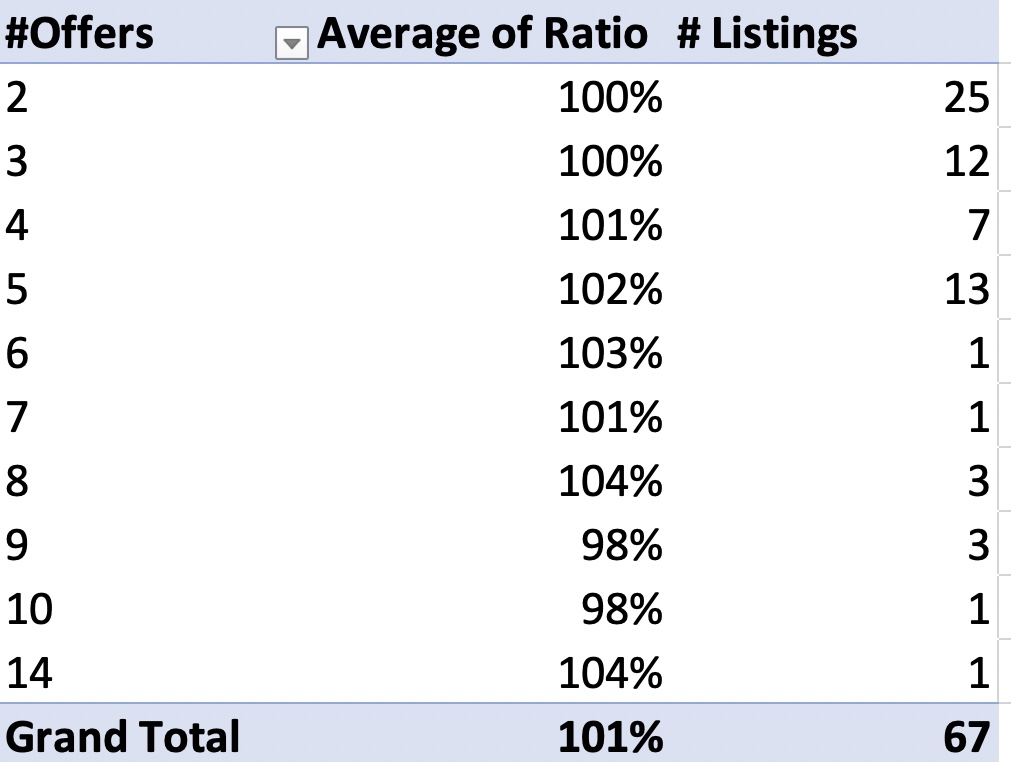 As you can see, Monterey County and Santa Cruz county are somewhat less competitive than Santa Clara county. In Santa Clara county, for example, homes sold for 108% of asking price when there were 8 offers on the table; in Santa Cruz, they sold for "only" 107% of asking price with 8 offers, and in Monterey, they went for an average of 104% of asking price with 8 offers.
What Does It Mean To You?
What does all this mean for you, the would-be home buyer in a multiple offer situation? To be honest, it should mean very little. There isn't really enough data, especially for Santa Cruz and Monterey counties, for this to be statistically significant. It merely tells you in broad outlines how the market responded in the past six months.
Remember, these are averages. It could be that the home you want to offer on is priced well below market value – or just about market value. And these numbers are backward looking; you need to account for current market conditions. Are buyers bidding higher today than they were a month or two ago?
In the end, the best advice I can give you is that you ought not rely too much on any calculation. Rather, consider the question: what is this home worth to me? At what point would you feel like you'd simply be paying too much for the property, given what you know about the local real estate market.