A lady who has been using my web site for a while just sent me an e-mail, enquiring about a property. She asked a common question: will there be an open house for this property coming up soon?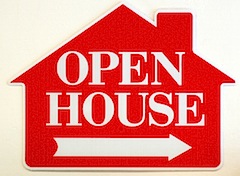 The tricky thing about looking for Santa Cruz Real Estate on my website is that most of the listings on this site aren't actually my listings. The same is true for most Realtors' web sites – the exception being, those Realtors whose web sites only show their own properties.
I can, however, help you to buy any of the listings you find on my web site. We Realtors employ a Multiple Listing Service – the MLS. It's a database of what's listed for sale by Realtors, and it's a cooperative system. I can show and sell your listings on the MLS, and another Realtor can show and sell my listings. This is key to selling a home quickly and for the best price, as it gets quick and wide exposure to thousands of Realtors and hundreds of thousands of potential buyers.
When someone asks me, "Is there going to be an open house soon?" the definitive answer can be a little hard to come by if it's not my own listing. The first thing I do is go and look at the listing itself – there is a place on the MLS entry for a property where the listing agent can put open house information.
This information can be searched by the public as well. If you point your web browser to mlslistings.com, you will see an image like this right on the first page: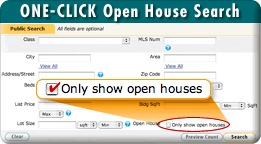 That image is hyper-linked to an Open House Search page. From there, you can search by zip code, property type (house, condo, multi-res), list price, bedrooms, bathrooms, etc. It's very handy.
Unfortunately, it's not very reliable. Many Realtors do not update the MLS with the dates and times of their upcoming open houses. I don't know what the percentage is, but I'd guess probably not more than half of a weekend's open houses are updated correctly on the actual MLS.
For the rest, you'll have to check on craigslist – sometimes, when a Realtor advertises a listing on craigslist, he will also put the open house information there.
I hate to say it, but perhaps the most reliable way of finding open houses is to, gulp, open up the newspaper. There's very little real estate advertised in newspapers anymore these days – with the exception of open houses. Those are still pretty well advertised in the newspaper, and if you're looking for a quasi-definitive list of what's going to be open on the weekend, check out the Santa Cruz Sentinel. Or perhaps the Register Pajaronian.
Or, just make a call to your Realtor. Your Realtor will, I am sure, be happy to research upcoming open houses for properties you are interested in. Your Realtor will also probably be happy to hand you a stack of his or her cards and tell you that when you go to the open house, just say to the agent sitting the open house, "I'm working with so-and-so" and hand over one of the cards. This is like pushing a fat glowing bar of kryptonite at Superman or sportin' a garlic necklace when in the company of Vampires – the over-eager and bright-eyed Realtor will go back to reading his book and leave you to explore the property in peace.
Happy House Hunting!