Rio Del Mar Beach is an enchanting coastal gem nestled within the community of Rio Del Mar in Aptos, California. This remarkable beach, a part of the larger Seacliff State Beach, is a must-visit destination for anyone seeking relaxation, adventures, or just a memorable day out.
From enjoying the invigorating activities such as surfing, fishing, and swimming, to basking in the tranquility of a scenic walk, or simply relishing a picnic with loved ones, Rio Del Mar Beach offers a multitude of experiences for everyone. So, gear up to explore all that this beautiful beach has to offer.
A Glance at Rio Del Mar Beach
The beach, located within the community of Rio Del Mar, is a part of the larger Seacliff State Beach. It's a popular spot for locals and tourists alike, offering a variety of activities to indulge in. With its vast expanse of sand, remarkable wildlife sightings, and a plethora of recreational activities, Rio Del Mar Beach is a splendid destination for a fun-filled day out.
Visitors can enjoy a range of activities including surfing, fishing, picnicking, swimming, jogging, biking, and even bonfires. This dog-friendly beach is also a perfect spot for a leisurely walk with your furry friends. The beach boasts a long, paved promenade that's ideal for strollers, roller skates, wheelchairs, and long walks with a view of the surf.
The beach undergoes a beautiful transformation during different seasons. In summer, the Aptos Creek, which ends at this beach, forms a lagoon that alters the landscape of the beach. During winter, visitors can gather around beach-provided bonfire rings, creating a cozy, warm atmosphere amidst the chilly weather.
Navigating Your Way to Rio Del Mar Beach
It's easy to reach Rio Del Mar Beach. If you're coming from Santa Cruz, follow Highway 1 south to Aptos and take the Rio Del Mar exit. Continue following the signs for Rio Del Mar Beach and you'll arrive at your destination.
For those who prefer public transportation, you can take the Santa Cruz METRO route 91x, 71, or 55. From the bus stop, it's a short walk to the beach.
Embracing the Beach Life and Activities
Rio Del Mar Beach offers a multitude of recreational activities for visitors of all ages and interests. Here are some of the engaging activities you can indulge in:
Beach Activities
The beach area is perfect for water sports enthusiasts. Visitors can enjoy activities like swimming, surfing, boogie boarding, volleyball, paddle boarding, and fishing.
Bonfires
The beach provides fire rings for visitors. Bonfires are only allowed within these rings, adding a touch of warmth and camaraderie to your beach experience.
Wildlife Viewing
Nature lovers will find the beach a great spot for wildlife viewing. Whales, dolphins, sea lions, and a wide variety of birds can be frequently spotted from the shore.
Wandering and Exploring
If you're a fan of long walks or you just want to revel in the magnificence of the ocean, Rio Del Mar Beach is a perfect choice. The beach offers a long stretch of sand for you to walk on, wetting your feet in the water, or you could just sit and gaze at the vast ocean. The beach also has a sidewalk next to the parking area for those who prefer to stay off the sand.
Finding Peace and Tranquility
One of the most distinctive features of Rio Del Mar Beach is its peaceful ambiance. Despite being located within a community, the beach often feels isolated, providing a tranquil escape from the hustle and bustle of daily life. There are nearby food places and people enjoying the area, but nothing feels rushed or overcrowded. This makes Rio Del Mar Beach an ideal spot for relaxation and rejuvenation.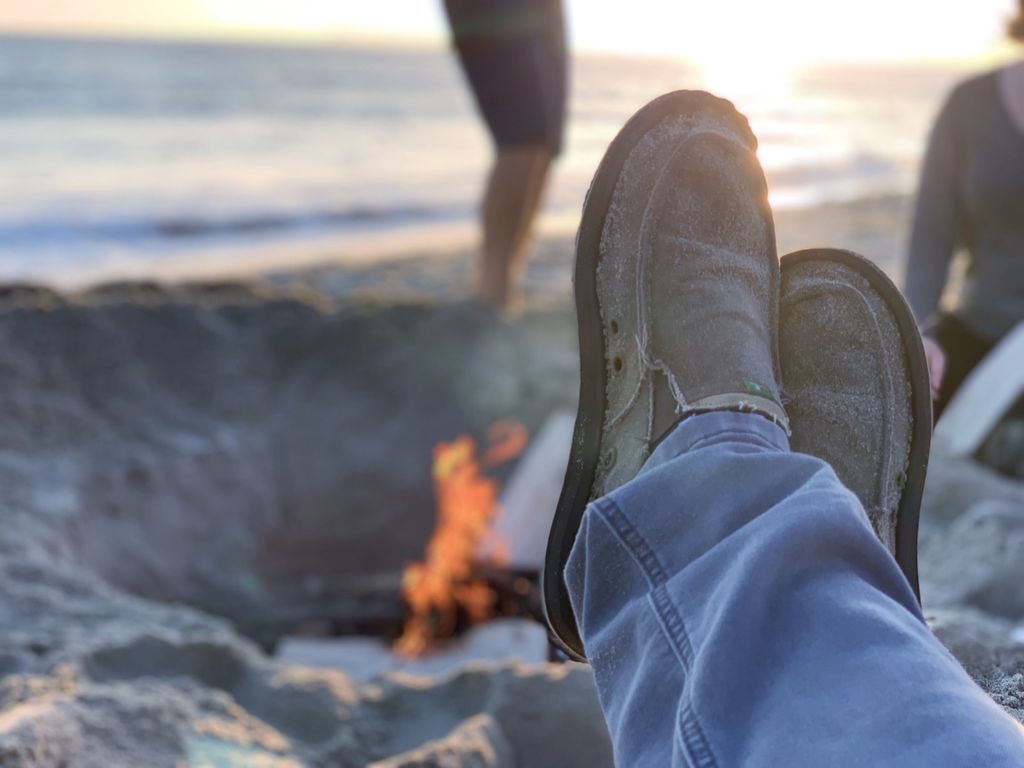 Parking Fees and Accessibility Services
Parking at Rio Del Mar Beach is $10 for the "Platforms" area. The fees support the maintenance and services of the park. Free parking is also available in the Rio Del Mar town center.
The beach provides a range of services for visitors, including:
Restrooms

Picnic areas

Fire pits

Showers

Junior Guards program

Lifeguards (available during summer only)
For those with mobility issues, beach wheelchairs are available for day use. You can learn more about this service and make a reservation.
A Glimpse Into the History
Rio Del Mar State Beach is a part of the larger Seacliff State Beach. It is located on the unceded homelands of the Awaswas-speaking Ohlone Tribe known as the Aptos, who have stewarded these lands since time immemorial.
Centuries of colonial violence led to the removal and displacement of the Aptos. However, their descendants continue their stewardship and presence here, working in partnership with State Parks.
Beach Regulations
To ensure a safe and enjoyable experience for all visitors, certain regulations are in place at Rio Del Mar Beach:
Dogs are allowed on the beach but must be kept on leashes no longer than 6 feet.

Fires are permitted but must be confined to the provided fire rings.

Alcohol consumption is not allowed on the beach or in day-use areas.

A fishing license is required for those planning to fish.

Recreating Responsibly
Visitors are encouraged to recreate responsibly to protect themselves, their families, friends, and the community. By following the advised measures, you can ensure a safe and memorable visit to Rio Del Mar Beach.
Unveiling the Beauty of Other Aptos Beaches
Apart from the captivating Rio Del Mar Beach, Aptos is home to several other stunning beaches worth exploring. Each beach offers a unique experience, making your visit to Aptos a truly memorable one.
Seacliff State Beach is known for its family-friendly atmosphere, breathtaking backdrops, and a shipwreck off the shoreline. The ship, SS Palo Alto, was built for World War I but never saw action as it was completed too late. Today, it stands as a unique attraction at Seacliff Beach.
Although the ship is closed to the public, it was once a makeshift amusement center with a dance floor, restaurant, and even a swimming pool. The beach also features a fishing pier, fire pits, and picnic areas, making it a popular spot for family outings.
Beer Can Beach, also known as Dolphin Beach, is a hidden gem in Aptos. Despite its somewhat unusual name, this beach is a tranquil spot that's usually less crowded than others.
Dog owners will appreciate that leashes aren't required on this beach. Bonfires are also permitted, making it a great spot to enjoy a cozy evening. The wide and flat landscape of the beach allows for easy exploration and leisurely walks.
As the name suggests, Hidden Beach Park is a secluded spot tucked away from the bustling crowd. With picnic benches, playgrounds, and grassy areas, it's an excellent family-friendly beach choice. However, it's recommended to avoid visiting during the hottest part of the day due to limited parking.
Pot Belly Beach, located on the border of Aptos and Capitola, is a small and quiet beach accessible through New Brighton State Beach or from the south end. The beach is dog-friendly and offers several hiking trails for those who want to explore the surroundings.