I sat down for a meeting today with Rick Williams – he's a mortgage broker with Pacific Inland Home Mortgage. I sit down with mortgage brokers with some regularity – Realtors are probably the mortgage broker's #1 source of leads. If only Mortgage Brokers were a Realtor's #1 source of leads, my life would be easier. But I digress. 🙂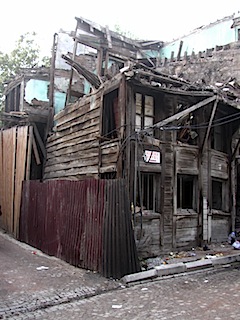 Rick had come to my office so we could discuss the FHA Energy Efficient Mortgage program, and how it can be combined with the FHA 203K program to do some renovation work on older, fixer-upper type properties (there's also, apparently a streamlined FHA 203K which may be easier to deal with). There are lots and lots of older properties for sale these days at really cheap prices (especially in Watsonville, but also in the San Lorenzo Valley, and increasingly in the mid-county areas like Live Oak, Soquel, Capitola, etc.). With the FHA 203K program, you can actually borrow more than the cost of the real estate itself.
Here's how it works. You find a property you want to buy. It's maybe a little rough – needs some paint, some new flooring, double pane glass windows, etc. Maybe the condo you're renting right now has all that, and you don't fancy taking a step down in terms of your living comfort when you buy your next (or first!) home. FHA 203K to the rescue!
Here's how it works. The appraiser comes up with an as-is value for the property. The appraiser also puts together an as-repaired value, listing specific repairs and improvements and how much they would add to the value of the property. Of course, the cost of the repairs must at least equal the amount of value they would add. It should be noted that there's a list of things that are allowed, and not allowed. The total cost of repairs and improvements cannot exceed $35,000.
That is, unless you're also going for an Energy Efficient Mortgage. This is an additional amount, up to $8,000, and of course, there are a bunch of strings attached on what's an energy-efficiency improvement. However, if you are wiling to jump through the hoops, this will get you a house with improved energy efficiency, and the borrower will get an additional 2.0% less debt ratio with the energy savings – in other words, it will in theory allow you to qualify to buy a more expensive home. The idea here is that the energy savings will help you afford the higher payment.
When you get a real estate loan, it is known as a purchase money loan. You never see the cash, it goes straight from your lender to the seller. So with one of these 203K or Energy Efficient Mortgage loans, how do the contractors get paid? The answer to this is that the seller gets paid the agreed-upon purchase price, and funds are held back in escrow to pay the contractors. Contractors can get paid up to 50% of the budgeted amount before they begin work, and they submit their invoices to escrow to receive the balance when work is completed.
As you'd expect with any type of government program, there's lots of caveats – for example, this is for owner-occupant buyers only (no investors). The loan cannot exceed $729,750 – and after January 1, 2009 this will drop down to $625,000.
Sounds good? If you're looking to buy an affordable house in Santa Cruz county, but don't want to feel like you are living in a shack, these programs are definitely worth checking into. Not all lenders offer these kinds of loans, though. Rick Williams tells me he's researched it pretty thoroughly and has found a few lenders who actually have FHA 203K and FHA Energy Efficient Mortgages. You can reach Rick at 831-247-5573 and you can view his profile on Pacific Inland Home Mortgage's web site.