When the Loma Prieta fire broke out a few weeks back, I wanted to post a blog entry about my experience with it. I had dropped my wife off at Cabrillo College, and she had noticed the haze in the air. "Wow, that looks like smog!" she said. "Nah," I said, "that's just fog or something." After I dropped her off, I headed south to Watsonville and I saw that it wasn't fog at all – I had the radio on, and I was hearing the news on KGO.
When the Bonny Doon / Martin fire got started, I was off in Las Vegas, so I missed the hubbub, but that really freaked a lot of folks out, I know.
And yesterday, I was headed once again to Watsonville, and there was a jam up. I could see way down by the Mar Monte exit that there were no cars, but right in front of me, there were a bunch, all jammed up. Then I looked over the horizon – smoke. A CHP cruiser drove by on the shoulder, and soon we were being herded off the road. I took San Andreas Road down to Riverside and got into Watsonville that way, just 45 minutes late for my appointment.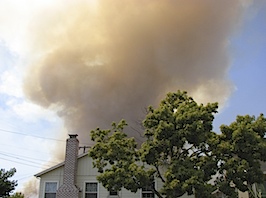 They're calling this third fire the Trabing fire. The folks I had gone there to meet were very gracious about my delayed arrival. The above picture is the the cloud of smoke arising over their neighbor's house. It cast an eerie orange light over the neighborhood, and little particles of ash were floating down.
It's kind of depressing. Three forest/wildfires in Santa Cruz in the space of a couple of months? I think it's going to be a long, hot summer. As I watched that huge plume of smoke, I thought (not for the first time) how horrible it must be to live in, say, Baghdad, where I imagine you'd see plumes of smoke like that quite often – but probably with a darker hue and laden with more toxic chemicals. Yet another reason, I guess, to be thankful for what you have and thankful for what you don't.