I can hardly believe it – we are now half way through February already! Where does the time go? Six weeks into the year, the Santa Cruz real estate market continues to exhibit rude good health. The number of closed sales in January hit 107, which is the highest number for January sales since 2007. The median home price rose slightly from the month before to $620,000 – but it was up a jaw-dropping 24% compared to January a year ago.
The ongoing drama continues to be – for a couple of years now! – the stark lack of homes for sale. Inventory did rise slightly from the month prior, with 259 homes available for purchase at the end of January, compared to 247 homes available at the end of December. Still, though, that pencils out to only a 73 day supply of inventory, making this very much a seller's market.
Digging into the numbers a little, it's worth noting a couple of signs that point to a slightly softer market:
Sales price vs. list price ratio dropped by 0.1% to 98.8% from 98.9%
The average days on market increased by 32.1% to 64 from 49
And while the market may be a bit softer than in the past few months, you wouldn't know it by looking at the average home price in January…which was $779,746, an increase of 37% compared to a year ago, in January 2013, when the average price was $568,792. The wide gap between the median price and average price indicates that the market is being dominated by higher-end sales, due primarily, one imagines, to lack of inventory in the lower end of the market.
What's YOUR home worth in today's market?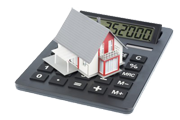 Home prices have risen steadily in this year – how much is YOUR home worth in today's hot market? Find out now with this free, quick, and accurate tool!
A key factor in real estate valuation is the mortgage market. There's been a lot of news lately regarding the Federal Reserve's "tapering" of "quantitative easing" (money printing). The new Chairman of the Federal Reserve, Janet Yellen, has indicated she does not intend to aggressively taper the easing – although in fact, the amount of "easing" has dropped by 25% from mid-December.
There is concern that this could increase interest rates, although in fact, interest rates have dropped as well, with average 30 year fixed rates now around 4.45% for a 30-year fixed rate. Some borrowers, however, may be able to get rates as low as 4.2%, depending on down payment, credit scores, etc. This is down from an average of about 4.6% a couple-few months ago.
How is it that mortgage rates are modestly lower, even as the Federal Reserve has begun printing less money? Many people have been trumpeting the notion that 2014 will be a "breakout" year, when the US economy finally shrugs off the vestiges of the great recession and begins to grow where it counts: in the number of well-paying jobs and higher take-home pay. Unfortunately, the reality – so far at least – is starkly different. And while some may blame the weakness on the weather (it has, from all accounts, been a fairly brutal winter for much of the country), there are other reports indicating that a strong jobs-based recovery is not in the offing.
The comparatively weak state of the national economy will work to keep mortgage rates down, even as the Fed's monetary support ebbs away. While the national economy remains iffy, the local economy is doing very well – at least in Silicon Valley. The valley is back – with the number of jobs exceeding the pre-recession level. The surge in prices in Santa Clara county is having a spillover effect in Santa Cruz, with many would-be buyers being pushed into Santa Cruz to take advantage of comparatively "cheap" real estate. This spillover is a key driver of the market, and explains why so many higher-end homes are selling.
As always, to get the full, PDF version of my newsletter, broken down by different areas of the county and also by Single Family Residences as well as Condominiums, click here to download the full the Santa Cruz Real Estate Market Trends newsletter.
Please share my newsletter with anyone you think is interested in what's going on with the Santa Cruz real estate market – just send them the link and they can sign up to receive an e-mail every month when the newsletter is ready. Thanks so much for taking the time to read this – I hope to hear from you soon!