We're now halfway through spring and well on our way to summer, which many people think of as the peak of the home buying/selling season. How are things shaping up with the Santa Cruz real estate market, now that we're 4+ months into the year?
The median price of single family homes in Santa Cruz county in April 2014 was $622,500 – that's an increase of 2% compared to a year ago (when the median price was $610K) – but it's a decrease of 2% compared to March 2014, a month ago, when the median price was $635K. Sales volume was pretty much flat year-over-year, with 170 homes having sold in April 2014, compared to 169 a year ago in April 2013…but month-over-month, sales volume was up a robust 38% in April as compared to May. And, good news for home owners – the sales-to-list-price ratio in April again topped 100%, coming in at 100.2%. Sweet!
While sales volume was up sharply compared to the month prior, inventory was also up. We closed out April with 428 homes available for purchase county-wide, up 17.6% compared to a month ago…but still 20.9% lower than it was a year ago. Pending sales (homes under contract, but not yet sold) were up 6% month over month but down 24.1% year over year.
The crucial metric for future pricing would be the Days of Inventory – which is down considerably compared to both a year ago and a month ago. We ended April with just 73 days of inventory available, down 18% compared to a month ago and down 21.5% compared to a year ago. Days of inventory shrank even though absolute inventory grew because the sales volume was comparatively strong.
Bottom line? The Santa Cruz real estate market is keeping it together so far this year. Prices have not continued their dramatic march upwards – but the three month moving average for median price has been over $600,000 for the past eight months in a row, and the three month moving average for average price has been over $600,000 for twelve months in a row. To me, it seems that the market has perhaps reached a near-term plateau, with prices being sustained at the current level primarily because inventory remains comparatively tight compared to historic norms.
I personally still believe there's a lot of inventory waiting in the wings. I talk to a lot of home owners, and what I continue to hear is that folks are planning to sell "in a year or two" when they expect prices to be higher than they are today. I remain unconvinced that prices will be significantly higher a year or two in the future, but many people are expecting they will be, and are looking for a little more equity in their homes before they make a move to sell.
But what will they do once they sell? For many of them, the answer will be to buy another home – either a larger one, or a smaller one. If that is indeed what they are planning to do, and they're thinking that having more equity in their current home will make such a move more economical once they have more equity…they might want to think again. I've prepared another little video which shows that if you're thinking of selling your current home and buying another, even in an appreciating market, that it makes more sense for homeowners to do that today, rather than in the future.
Want that spreadsheet?

Click here to download the spreadsheet used in the video, and figure out what your upsize / downsize scenario would be!
Did you watch the video? If not, take a couple of minutes to watch it, and then consider this. In the video, I used a couple of scenarios – one where prices increased by 8%, but where interest rates remain unchanged, and another where prices increased by 8%, but interest rates also increased by 1%. Both of these numbers are speculative, of course – but most forecasters are saying that rates will be rising over the coming year or two. Many people have posited that rising rates cut affordability and work to tamp down prices – I myself have said that on numerous occasions. While that may be true in a vacuum, rising rates usually coincide with a stronger economy – along with higher employment, greater wages, and increased buying power. Here's a nifty chart from the Calculated Risk blog, which shows what's happened to U.S. national home prices during periods of time when mortgage interest rates increased sharply:
Although the U.S. economy did put in a very weak 1st quarter, with GDP growth of just 0.1%, many people (including Federal Reserve chairwoman Janet Yellen) are ascribing that to the brutal winter most of the country just went through. Although the fed chairwoman is worried about a housing slowdown, overall she expects the U.S. economy is on track for a "solid" 2nd quarter, and expects the economy to grow faster in 2014 compared to 2013.
Of course, our local economy continues to be driven by our friendly juggernaut next door, Silicon Valley. The valley economy is booming, and prices there have soared into the stratosphere – making Santa Cruz county look like a comparative bargain. And, the valley economy looks set to continue cooking right along, with eight out of 10 executives of high-tech firms planning to grow their workforce in 2014.
What's YOUR home worth in today's market?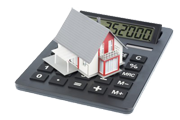 Home prices have risen steadily in this year – how much is YOUR home worth in today's hot market? Find out now with this free, quick, and accurate tool!
As always, to get the full, PDF version of my newsletter, broken down by different areas of the county and also by Single Family Residences as well as Condominiums, click here to download the full the Santa Cruz Real Estate Market Trends newsletter.
Please share my newsletter with anyone you think is interested in what's going on with the Santa Cruz real estate market – just send them the link and they can sign up to receive an e-mail every month when the newsletter is ready. Thanks so much for taking the time to read this – I hope to hear from you soon!