This morning I was frantically running off a few flyers for one of my listings in Watsonville (a great mobile home in an awesome park). I needed to do a few errands down in Watsonville before my weekly office meeting, and loading up the flyer box at this listing was one important thing on my list. As I was standing by the printer waiting for the job to complete, the managing broker of Thunderbird comes up to me and asks if I'd like to participate on a panel.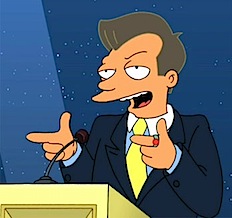 "Panel?" I said, "Sure! What panel?" You know me, I never look a gift horse in the mouth – if the boss is going to give me an opportunity to be in front of a bunch of potential real estate buyers, I'm there! She explained: "We're putting on a discussion about what's in, what's out in today's Santa Cruz real estate market. We're getting a few lenders together and some of the agents in the office to do a public event. I'd like to invite you to come along and talk about foreclosures in Santa Cruz, because that's what everybody is probably going to want to know about."
Hey, sounds good. I know about all kinds of real estate aside from foreclosures, but I imagine they'll let me chime in if I have something I feel needs to be said on another topic. Here are the topics slated for discussion:
What is the current state of the mortgage industry?
What loan programs work best in the current market?
What strategies can buyers use to best position themselves to buy?
What is the prognosis for interest rates in 2008?
What do home prices look like now?
What is a short sale and how do I buy a home through a short sale?
Why is now a good time to buy?
What are some ideas to help me sell my house now?
How can I use the Internet to help me buy or sell a home?
You, dear reader, may have noticed that there's no topic about buying foreclosure real real estate. Presumably that topic will be added to the next version of the flyer they are handing out.
The panel discussion will be held on Thursday, May 8th at 6:00 PM at Santa Cruz Title Company in Capitola – 1955 41st Avenue, just three doors down from Starbucks (behind the Burger King, Citibank, and various other corporate logos).
If you are interested in going, please call my office to sign up: (831) 475-8400. Or, just contact me and I'll put you on the list. They say "Space is Limited, Call now to Reserve a Seat" – but I don't imagine the fire marshall will be on-hand to shut us down if we should exceed the rated capacity from the room. But if you do register ahead of time, we'll probably make sure there are enough cookies for everyone (no promises).