And again, a shockingly long time has gone by since my last blog post. But this time, I've got a really good excuse. Just about 3 1/2 weeks ago (April 4, 2009), my wife and I welcomed into this crazy mixed-up world our first child, Aiden Santiago.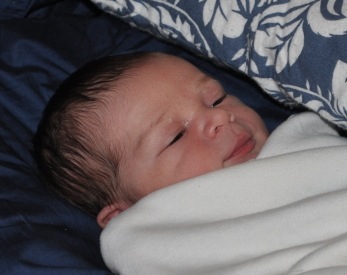 I've got so much to say on the subject of Aiden Santiago, I hardly know where to begin! There's so much to talk about on the subject of being an expectant father, the birth, and now of course, being dad to a newborn. But there's one thing I want to comment on, because I think a lot of expectant parents in Santa Cruz are asking themselves this:
My wife and I did the tour of both Sutter and Dominican. We have friends who have had babies at both facilities. We registered at both facilities. If you talk to people about this, many people will favor one or the other – the general consensus seems to be that both are excellent places to have a baby, but that the food at Sutter is better.
In the end, we did go to Sutter – and the baby was delivered by unplanned C-Section after almost 20 hours of labor. Throughout the whole labor and post-op time at Sutter, I was just blown away by the staff. I could not imagine a more professional, compassionate, caring, and friendly group of people to take care of my wife and our baby.
Yes, the room was nice, the food was OK (except there is no WiFi available for patients or guests – grr!) – but the care we received there was just beyond description. I feel a deep and genuine debt of gratitude to the staff there – this is something that they do all day, every day – but I never got the feeling that they were just doing their job or punching the clock.
I'd also like to give a shout-out to the lactation center at Sutter. We went there a few times with Aiden so we could nail this breast-feeding thing. The nurses there were also fabulous – they spent a lot of time with us to make sure that baby Aiden and mom were connecting well and Aiden was gaining weight as he should.
And thanks, also, to all my friends and family who have written and called and come by to visit! Thanks especially to my mother who has been spending a lot of time with us here in Capitola, away from her home in Berkeley, helping us to adjust to our new life as parents. Thanks, ma!