The Market in Context
The real estate market in early 2022 was incredibly – historically – hot.  Inventory was low, and buyers were out in droves, with most listings receiving multiple offers and selling far over asking price.  Nobody had ever seen anything like it, making the frenzied pre-crash market of 2005 pale in comparison.
The party came to a screeching halt when mortgage interest rates jumped over 2+ points (over 50%) in a matter of weeks.  Suddenly, faced with sharply higher borrowing costs and uncertainty as to what that would mean for home prices, homebuyers hit the brakes. Sales slumped virtually overnight, dropping 30-50% depending on particular neighborhoods and price points.  Prices cooled quickly from their early spring zenith, although they were still up modestly year-over-year.
Many homeowners were caught off guard by the sudden shift in the market.  Many of those who'd already had their homes on the market decided to pull them off, rather than let days-on-market accrue and make it seem as though their homes were…overpriced. Other would-be sellers put their plans on hold, rather than sell into a distinctly cooler and softer market.
Not everyone has the luxury of deciding which market to sell (or buy) in.  When presented with an incredible job opportunity half way across the country, the owners of 1033 Nobel Drive decided to pull up stakes, and made the decision to put their home on the market.  While they realized that the market was nowhere near so hot as it had been, they also knew that their home had appreciated dramatically in value since they had purchased it only five years prior, and with their gains, they'd likely be able to pay cash for a home where they'd be moving to.
Preparing the Property
They hadn't made much in the way of major improvements since they'd owned it, but they had taken good care of it. The home was clean, well-kept, and presentable with good privacy and great natural light.  However, it didn't have a lot of recent, expensive upgrades that might help boost the price, had only a very small back yard, and just a one-car garage. Given that they were still living in the home, and had a relatively short time to get the property sold, doing major, costly renovations to amplify the sale price wasn't an attractive option.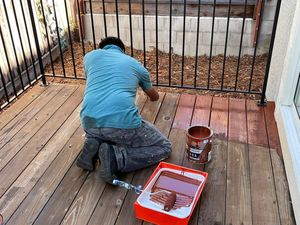 However, as with most homes, it is often the low-hanging fruit that provides the biggest return on investment.  In the space of about 10 days, several aspects of the home's appearance were improved:
Install new oven and cooktop
Re-stained back deck
Added mulch all around
Replaced several light fixtures
Replaced hall bathroom baseboard
Touched up trim paint
Pressure washed house, concrete
The approximate material costs were as follows:
Appliances:  $3,200
Mulch:  $350
Baseboard:  $150
Paint: $135
Light Fixtures:  $375
Door Hardware:  $75
Additional parts & materials:  $225
The approximate labor costs were as follows:
Assorted Handyman Tasks: $640
Landscaping / Painting: $530
Sales Clean: $720
Dump Run: $150
Total Materials:  $4,510
Total Labor:  $2,040
A home preparation budget of 1-3% of list price is typical – in this case, the total staging budget was only 0.5% of list price, and only 0.45% of the final sale price.
In addition to these expenses, the seller also obtained a home inspection, termite inspection, and roof inspection.   The property is part of a planned unit development (PUD) and the management company charged for the HOA document preparation and a transfer fee.
Home Inspection:  $550
Termite Inspection: $225
Roof Inspection:  $195
HOA Doc Prep and Transfer Fee:  $700
To ensure the home looked its best, a stager was hired to do a "partial" staging, incorporating a number of the seller's furnishings but also brining in a truck load of staging pieces.  The stager also made recommendations on what to do with existing artworks and other personal items stored on the property.
Staging Cost:  $2,800
---
Need an equity advance to get your home ready for sale?  Compass Concierge to the rescue!  Through the Compass Concierge program, home owners can receive funds to use for getting their home ready for market….without any cost, fees, charges or interest (certain restrictions apply).  Click here to learn more.
Disclosure Package
In addition to carefully preparing the property to look its best on a modest budget, the seller also took care to make sure to provide a complete disclosure package for prospective purchasers.  As the property had only been purchased five years prior, the sellers still had all those old documents – the previous owner's disclosures, along with the home inspection and termite inspection from that time.  All of these went into the disclosure package, along with the current owner's disclosure forms and inspection reports they provided.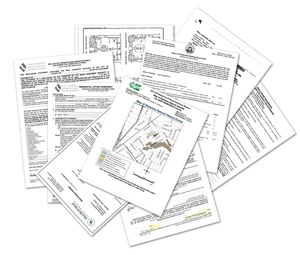 By providing all of this documentation up-front to potential buyers, sellers make sure that there are no unanswered questions about the property – all material facts that are known are provided to the buyers.  This serves to reduce friction for buyers – they knew exactly what was being offered for sale, and wouldn't have to spend any of their own money on doing reports of their own. By making a full and complete disclosure of all material facts relating to the property of which the are aware, the sellers sharply limit the risk of any lawsuits after sale, and greatly increases the likelihood that buyers will be willing to make non-contingent offers on the property.
The staging furniture went in the day after the professional sales clean, and the photography and video shoot happened the day after the staging furniture was placed. In addition to standard daytime photography, the photographer returned later that evening to obtain distinctive sunset photos which help listings stand out online. The photos and video were ready within a couple of days, and a postcard was produced to be mailed to the neighborhood, alerting them to the listing and helping to spread the word.
Pricing Strategy
Prior to signing the listing agreement, the sellers reviewed and discussed the current state of the market, recent sales, and competing homes on the market.  Based on the comparable sales and market conditions, their REALTOR® suggested that the sale price was likely to be in the range of $1,375,000-$1,400,000.  However, the sellers were counseled that the best way to assure the highest price was to price it below that, to ensure the property received wider exposure and offers from all potential buyers.
On the Market
The listing went "Active" on the MLS on a Tuesday, with open houses scheduled for Thursday (Broker's Tour) and both weekend days. The first day, we had two showings..and one offer, which came in only a few hours after it had been shown.  The next day we had another two showings…and another offer. After the Broker's Open Tour open house on Thursday (also open to the public), we received our third offer.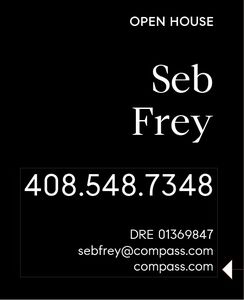 Due to the seller's schedule, we were not able to formally review, discuss, and begin to negotiate these three offers until Sunday morning, before the second open house. We decided on a strategy for doing the counter offers, which were sent out that day to the three prospective buyers.
The open houses were well-trafficked, with 14 parties visiting the home on Saturday, and another 10 parties through on Sunday.  Also on Sunday, one of the buyers who saw the home fell in love, and also wrote an offer, bringing the total offer count to four.  Four offers in six days…in a "soft" market.
Negotiating the Contract
With four offers to work with, a sale over-asking price seemed assured.  However, the initial offers did not come in with particularly high prices.  In fact, the first offer came in under asking price … but was resubmitted two more times before we began responding to offers, and was slightly over asking price before we sat down to issue a counter offer.
All four offers were given counter offers – all over their initial offer price, and at a higher price than any offer we presently had in hand.  We were testing the buyers, to see how high they be willing to go.  Of course, price is not the only consideration – terms are very important, and valuable as well.  Additionally, as falling out of contract with the wrong buyer often costs sellers tens of thousands of dollars, we wanted to make sure that the buyer we selected would be rock solid.
Despite having 24 parties come through the open houses over the weekend, we only had one offer from among all those visitors.  No other agents or buyers had called to request a showing on Monday, or to ask how traffic had been at the open house, or ask about an offer review date.  The listing was receiving decent views and "saves" online, but not much better than many other properties presently on the market. Given that there did not appear to any new offers coming soon, the seller had strong incentive to put a deal in place with one of the four buyers we had in hand.
Ultimately, the offer which was accepted had amazing terms:  not only was it far over asking price (10.8% over list), but it had wonderful terms as well:
All Cash
No Inspection Contingency
No Appraisal Contingency
13 Day Close
46 day free rent back for seller
The sale closed right on time, with absolutely no drama.  The buyers never returned to the property during the escrow period, and the sellers will enjoy about six weeks of free rent in the home, allowing them to gracefully make the move to their next chapter in life.
By the Numbers
List Price:  $1,300,000
Sale Price:  $1,440,000 (+10.8% over list)
Days on Market: 6 days
Length of Escrow:  15 days
Listing-to-Closing:  48 days
Timeline
Listing Agreement Signed:  07/23/22 (Day 0)
Staging Consultation: 07/27/22 (Day 4)
Appliances Installed: 08/02/22 (Day 11)
Handyman Interior Work: 08/02/22 (Day 11)
Coming Soon on MLS:  08/02/22 (Day 11)
Landscaping / Painting:  08/06/22 – 08/07/22 (Day 15)
Sales Clean: 08/07/22 (Day 17)
Staging: 08/08/22 (Day 18)
Photography / Video: 08/09/22 (Day 19)
Postcards to Neighbors:  08/13/22 (Day 23)
Listed as Active on MLS:  08/16/22 (Day 26)
Broker's Open Tour:  08/18/22 (Day 28)
First Open House:  08/20/22 (Day 30)
Offers Reviewed: 08/21/22 (Day 31)
Second Open House: 08/21/22 (Day 31)
Offer Accepted: 08/23/22 (Day 33)
Close of Escrow: 09/07/22 (Day 48)
Conclusion
The midsummer real estate market of 2022 is overall a much softer market than we experienced in the first quarter of the year.  Many sellers experienced high days on market, price reductions, and a sale price significantly lower than initial asking price.  In addition, many of them spent considerable time and money preparing their homes for market.  However, by carefully considering the pre-sale improvements, the owners of 1033 Nobel were able to inexpensively prepare, position, and price their home for a quick sale at a comfortably higher price than had been anticipated.
Are you looking to get a similarly excellent result with the sale of your home?  Please contact me and let's get started.