So I was down at the Santa Cruz Association of Realtors today, buying a couple of swish new Blue SupraKey safes – the place the Realtor keeps a key to your home so that other Realtors can show it when you're not around. As I forked over my credit card, what should I see there, but St. Joseph, the Underground Real Estate Agent(tm).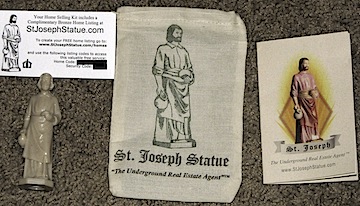 Pretty cool, huh? Who knew there was a patron saint of home sellers – and no less than Joseph, as in Jesus, Mary, and Joseph. If you're having trouble selling your house – just ask your listing agent to pick you up a $10 Statue of St. Joseph and bury it at your property. Your Realtor will end up saving money, too – if your house is $50,000 over-priced like 90% of most houses on the market, that's $1500 in commissions right there your Realtor would save, versus eventually reducing the price to where it otherwise would need to be if it doesn't sell thanks to a little divine intervention.
The booklet that comes with the statue is pretty cool. It has a couple suggested prayers, here's an example:
"St. Joseph, guardian of household needs, we bury you now to help us in the sale of our property. Please bring us an acceptable offer. When escrow closes, we will dig you up and display you in a place of honor in our new home."
All I can say is, Amen to that!
Now, to be fair, the booklet does mention that it is wise to also continue with typical methods to sell your real estate. #1 on the list? Drumroll, please: properly price your home. Looks like your Realtor's gonna be out that $1500 anyway.
For more info on the St. Joseph's Statue, visit StJosephStatue.com – or pick one up at the Santa Cruz Association of Realtors.