Immerse yourself in the enchanting beauty of the forest of Nisene Marks State Park; a biodiversity-rich wonderland perfect for family adventures and tranquil retreats.
Highlights of Nisene Marks State Park
With fascinating highlights and family-friendly adventures to offer, the Nisene Marks State Park in Aptos welcomes you into its magnificence. A haven of breathtaking beauty, it entices nature enthusiasts and families with its captivating sights and activities.
From treetop adventures and tranquil hiking trails to the historical lumber railroad, Nisene Marks State Park unfolds during exploration. Your journey in this remarkable place promises a perfect blend of fun, relaxation, and education spread across a fascinatingly diverse ecosystem.
Treetop Adventure
On your next visit to Nisene Marks State Park, awaken your adventurous spirit with the Treetop Adventure. This thrilling activity permits you to immerse yourself fully in nature, offering panoramic views of the park while scaling the heights of the amazing redwoods.
The Treetop Adventure at Nisene Marks State Park offers an exceptional opportunity to interact with diverse forest life while soaring amidst the majestic redwoods.
Whether you're a fearless teen or an adventure-loving adult, there's something for everyone at the Treetop Adventure. With zip lines and obstacle courses nestled high among the tree tops, you'll witness the forest from an angle like never before.
No trip to Nisene Marks State Park is complete without experiencing the Treetop Adventure. This unique, memorable activity not only provides a healthy dose of thrill and excitement but also enriches your understanding of the forest's vast biodiversity.
Tranquil Hiking Trails
The tranquility of Nisene Marks' trails provides the perfect backdrop for peaceful walks. Let these serene paths be your sanctuary for mindfulness and rejuvenation, truly exemplifying a nature therapy experience.
Explore the Upper Aptos Creek Trail for a peaceful journey amidst towering redwood groves
Discover hidden waterfalls along the Loma Prieta Grade trail
Feel connected to nature as you stroll down the Old Growth Loop
Engage your senses with the varied terrain and captivating sceneries of Aptos Creek Fire Road
Relish the hush of solitude only interrupted by bird calls in Maple Falls
Historic Lumber Railroad
Surrounded by towering redwoods, remnants of the Nisene Marks' Lumber Railroad offer visitors a glimpse into the park's historic past. Walk the old tramways and immerse yourself in the bustling era of California's logging boom.
Absorbing history at Nisene Marks' Lumber Railroad tugs at your imagination. Picture the once-busy tracks filled with bustling loggers, transporting towering redwoods from forest to mill.
Embarking on a journey through Nisene Marks' Lumber Railroad links you back to an era of industrial growth and human resilience. This hidden gem in the redwoods resonates with the echoes of historical grandeur, turning each visit into an unforgettable experience.
In the quiet moments while traversing the old tracks, the stories carried by these old railway ties start to unfold. The forest of Nisene Marks State Park invites you to this intriguing historic journey, tying together nature and mankind's footprint.
Exploring the Flora and Fauna
Venture into the heart of Nisene Marks State Park and be greeted by a delightful symphony of bird songs. Sightings of deer or raccoons along the park's trails make for a sensational wildlife experience too.
Unravel the secrets of an array of majestic trees, vibrant wildflowers and fascinating fungi for which the park is renowned. Each species gives a vivid splash of originality to Nisene Marks, making it a sublime hub of biodiversity.
A Diverse Ecosystem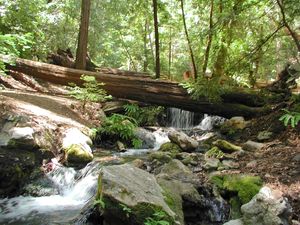 Venturing into The Forest of Nisene Marks is to step into a world of rich biodiversity. Marvel at the unique ecosystem brimming with towering old redwoods, oak, maple, and a mix of other beautiful trees.
The forest teems with fascinating wildlife, from playful otters in the creek to colorful bird species, and critters scampering on forest floor. It's not only an exploration journey, but also a joy for nature enthusiasts.
Birdwatching
There's more to the Forest of Nisene Marks than meets the eye. Look up and you'll find a birdwatching haven, full of feathered treasures scampering across the leafy canopy.
Keep your binoculars at the ready. From woodpeckers to the majestic red-tailed hawk, Nisene Marks promises a unique avian spectacle. You never know what fascinating species you'll discover next.
Native Plants and Wildflowers
The Nisene Marks State Park presents a truly diverse landscape of native plants and wildflowers, adding vibrant color and life to your visits. Spot lush ferns, shimmering poppies, and towering redwoods intertwined in an elegant ballet of nature.
Hiking through the forest gives you a front-row seat to this incredible botanical diversity. It's a living carousel of colors, with the seasons painting a unique picture of blooming wildflowers and changing leaves.
The park's wonder doesn't end with its trees. One can marvel at a carpet of violets, pink shooting stars, and Lupines during spring. They create an exquisite spectacle beneath the forest canopy.
Whether you're a botany enthusiast, a nature photographer, or simply love the outdoors, exploring the native flora of Nisene Marks State Park offers an ever-changing tapestry of hues and textures, a tribute to Mother Nature's creativity.
Family-Friendly Activities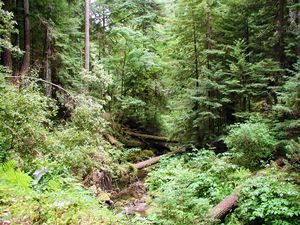 With a host of family-friendly activities, Nisene Marks State Park is where family joy unfolds effortlessly. From interactive playgrounds to spirited biking trails, it's an outdoor paradise created for family bondings.
Creating lasting memories is no taller task at the Nisene Marks. Whether it's a tranquil picnic amidst nature's backdrop, or an exhilarating treetop adventure, every activity here resonates with familial laughter and shared joy.
Picnic Areas
Unwind amidst nature in the rejuvenating picnic spots within Nisene Marks State Park. Disconnect from the digital realm as you relish a family meal, surrounded by towering trees and soft melodies of bird chirpings.
Experience the perfect family day-out at Nisene Marks' scenic picnic areas. Here, you pave the way for delightful family conversations, laughter, and memorable moments, all while basking in the beauty of Aptos' wilderness.
Adventure Playground
Adventure Playground, the heart of Nisene Marks State Park, is designed for the fearless little explorers. Parents, it's essential to supervise your youngsters as you let them loose for a world of adventures and ensure that safety measures are not compromised.
A rainbow of slides, various swings, and all-encompassing climbing structures transform the Adventure Playground into a kid's paradise. This place captures unforgettable moments of joy that your children will relive over and over.
Embracing the playground's natural setting, kids can engage in a unique outdoor explorative fun. The gentle chatter of birds, rustling leaves, and distant creek sounds add an enchanting backdrop to their play.
The playground is a haven where your kids can dive into imaginative play, expand their boundaries, and cultivate their love for the outdoors. Visiting Adventure Playground, fun, and memories are always guaranteed.
Biking Trails
Nisene Marks State Park holds a fun-filled day for your family. As you embark on the scenic biking trails, each turn unravels stunning views of towering redwoods and sun-dappled paths, making cycling more than just an exercise.
It's time for adventure! Nisene Marks' biking trails are perfect for families to get active. Winding paths, chirping birds, and dappled sunlight: the park's picture-perfect fusion of fitness and nature.
The biking trails at Nisene Marks offer varying degrees of difficulty. Whether you're a fitness enthusiast or just want to take a leisurely ride, there's a trail that caters to everyone. Start creating indelible family memories of pedalling through lush groves!
Camping and Overnight Stays
Delve into a magical world as you settle for the night under the star-studded sky at Nisene Marks State Park, where the whispers of nature serve as a perfect lullaby.
Initiate your family to the timeless art of outdoor living, starting from pitching tents to building bonfires, amid the serene setting of Nisene Marks State Park – let the adventure unfurl.
Campgrounds
When gearing up for your stay at Nisene Marks State Park, picking the right campground sets the tone for an unforgettable journey. Dive in and choose one that offers the right mix of privacy, amenities, and breathtaking beauty.
In Nisene Marks, campgrounds are nature's wonder, offering a surreal escape from the hustle of city life. Trees form a natural canopy, star-studded skies become your roof, and the quietly whispering wind replaces the noise of city traffic.
Nisene Marks extends a warm welcome to campers with numerous choices. From group camping sites to individual sites nestled amidst the towering trees, there's something for everyone. Adventure and serenity come hand in hand here.
Have you been wanting to unplug and unwind? The campgrounds in Nisene Marks State Park help you do just that. Campfires, marshmallows, interesting stories, and the entire family together in the woods; this park is all about creating beautiful memories.
Cabins and Lodges
Lodging in Nisene Marks offers a true forest experience without compromising comfort. Cabins and lodges scattered throughout the park provide rustic charm, modern amenities, and picturesque views.
Frequently asked questions range from amenities to accessibility. All questions point towards ensuring a comfortable stay. The staff at Nisene Marks go above and beyond to ensure that your stay in the cabins and lodges is a memorable one.
Nature Camping Experience
Nestled within the majestic redwoods of Nisene Marks State Park, the camping grounds serve as the perfect setting to transform your night into a star-studded affair. As night falls, the forest floor comes alive, and the quiet whisper of the trees is all you can hear.
Imagine, sleeping under a canopy of towering redwoods. In a place like Nisene Marks, indulging in such an extraordinary camping experience opens doors to create long-lasting memories. It's truly an escape from the ordinary.
During your camping adventure, don't forget to take a moment to lay back, gaze at the sky, and let the twinkling stars keep you company. It's truly a camping experience that connects you to nature while ensuring comfort and tranquility to enjoy with your family.
Tips for a Memorable Visit
To make the most of your day out at Nisene Marks, always dress appropriately for the weather, bring snacks and water, and apply sunscreen for an enjoyable and comfortable experience.
Prepare for your adventure at Nisene Marks by being mindful of wildlife. Follow park rules, keep a safe distance, and tread lightly to protect the natural environment, ensuring a memorable visit for you and future visitors.
Dress Appropriately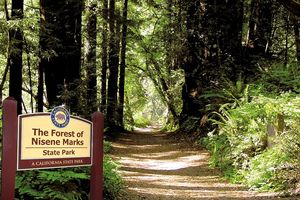 When it comes to dressing kids for a day at Nisene Marks State Park, layering is key. Pack a light jacket or sweater even on warm days – the shade under the trees can be cool.
A pair of sturdy, closed-toe shoes can make the difference between a fun adventure and a day filled with uncomfortable walks. Make sure they're comfortable for long periods of hiking.
Remember, the right outfit can enhance your Nisene Marks' adventure. Consider moisture-wicking textiles and clothes that shield you from sunburn. Most importantly, wear what you feel comfortable and free in.
Bring Snacks and Water
Whether it's a fruity trail mix or an energy bar, include light snacks to keep your energy up during your hike in Nisene Marks. With the right picnic prep, you can feed the adventure while enjoying the serene setting.
Due to the plethora of outdoor activities at Nisene Marks Park, carrying sufficient water is essential. Not only does it prevent dehydration, but it also keeps you refreshed as you explore the enthralling trails and terrains of this unique locale.
Respect Wildlife and Nature
The wildlife is a crucial part of Nisene Marks State Park's charm. Families should prioritize appreciating the beauty and diversity of wildlife from a safe distance to maintain a harmonious coexistence. Refrain from feeding or disturbing the animals, and remind children to do their part as well.
The 'Leave No Trace' mantra should guide your visit to the park. It's important to bring out what you bring in to keep the park clean and enjoyable for other families. Be considerate of other visitors and future generations who also deserve to experience the park's untouched beauty.
Mother nature's rulebook here includes respecting every living creature – big or small, and even plants. Walking only on designated trails to avoid trampling native plants is another way to respect nature. Even simple things like not picking flowers contributes to maintaining the park's natural splendor.