You have probably seen the signs plastered on telephone poles and stuck into the ground throughout the Bay Area:  "We buy houses."  Or perhaps you've gone online and looked for a buyer for your home online, in which case you've likely seen the digital equivalent of these old-fashioned placards.  But who exactly are these people who say they will buy your Bay Area house?
Companies that advertise that they "buy houses" are actually real estate investment businesses that specialize in the fast and cash-only purchase of homes. They often pitch themselves as an alternative to traditional means of selling a home, which can include employing a real estate agent, placing the property on the market, and waiting for a potential purchaser to make an offer on it.
There are a large number of "We Buy Homes" businesses operating in the Bay Area, with some of them being legitimate while others maybe not being so. Before engaging in business with any firm, it is critical to perform all of the necessary research and due diligence on that organization.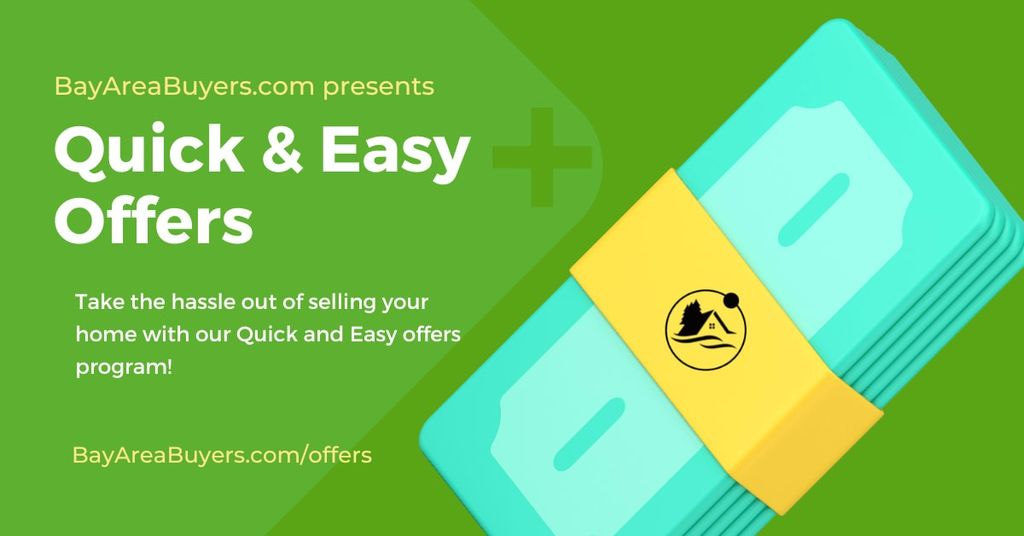 Genuine "We Buy Houses" businesses will typically make an offer that is reasonable for the house they are interested in purchasing, taking into consideration the property's current condition, its market value, the local real estate market, a safe margin for error, and of course, some profit for the buyer. In addition to this, they will provide clear information regarding the procedure and any expenses that are associated with the sale.
To keep it real, I'll have to point out that the "margin for error" and the anticipated profit for the buyer are fairly significant.  These investor buyers can sometimes get burned on deals, to the tune of hundreds of thousands of dollars in cases. Other times, they'll get expensive capital tied up in a project for months or in cases even years longer than they had anticipated – which can significantly erode or entirely eliminate any gain for them at all.
What these We Buy Houses Bay Area companies do
The truth is, these investors are assuming a significant amount of risk purchasing your property to renovate and flip it.  You, as the homeowner, have already assumed much of that risk, years ago when you yourself bought the property.  Your risk is much lower than the investor's risk, which is one reason why you should expect an offer from one of these We Buy Houses Bay Area companies to be significantly lower than market value would appear.
In exchange for that lower price, however, these "We buy houses" companies in the Bay Area do offer several benefits.  They will buy the homes as-is.  They will not require that you need to clean it, or do any repairs.  You can leave whatever property behind you don't want to take with you – you can even leave all the food in the refrigerator, mattresses on the beds, and used oil and radiator fluid in the garage. You get a fast close, exactly on the date you specific, without a long inspection contingency.  These are generally very solid offers.
But, in order to guarantee that you are getting a reasonable off-market price for your property, you should always make sure to compare the offers that you receive from a number of different "We Buy Houses" firms, as well as regular Silicon Valley real estate agents.
Soliciting offers from multiple Bay Area real estate investors can be a lot of work, and you may be subjected to numerous phone calls, text messages, and emails from these companies as they work to put together a deal with you.  You may also feel that these companies do not have your best interest at heart, especially when you see how many of these offers turns out to be.
Introducing the Bay Area Home Buyers Network
That's why I've formed the Bay Area Home Buyers Network.  This is a group of buyers who are looking for homes throughout the greater Bay Area and Silicon Valley.  Some of these buyers are trusted, professional real estate investor firms.  Some of them are looking to rent the properties out, but most will be looking to renovate and resell the properties.  Other buyers, however, are just ordinary people – like you and me – who are simply looking for a good, clean, safe, comfortable home to buy in and live for years to come – much as you yourself may have done.
If you're interested in tapping into my network of approved, ready, willing, and able buyers for homes in the Bay Area, please contact me and let's get you moving.
–