If there's one thing that makes living in an urban center great, it's that you can usually walk to lots of great places. Like my brother, he lives in San Jose, and he lives within walking distance of any number of restaurants, shops, cafes, bars – you name it, you can probably walk to most anything within about 15 minutes or so.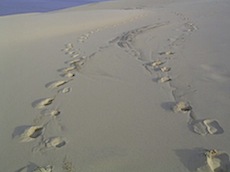 On the other hand, Santa Cruz county is more rural in nature. It's pretty tough to find housing – especially affordable housing – that is within walking distance of anything other than a grove of redwood trees. Many out-of-town buyers really only have the haziest of notions of the various neighborhoods in the county, and which are within walking-distance of urban amenities that so enrich our 21st Century existence (ahem).
Many times when you are shopping for real estate on-line, the real estate listing has remarks like "Close to shopping, restaurants" – but what is close? A 10 minute drive? Maybe that's close for some people – but as fuel prices skyrocket and as people become increasingly environmentally conscious, "close" would more often be considered a ten minute walk rather than a 10 minute drive.
I've got some good news for all of you out-of-towners looking for your slice of paradise, and are concerned with the "walkability" of property you are interested in. Let me first say – you are right to be concerned! People place a big premium on proximity to amenities – which is why centrally-located properties are usually so much more expensive than properties out in the boons.

Enter walkscore.com – a web site that gives you a "walkability score" for "any address." I am not sure how they'd do in Waziristan, but I think you'll be OK for most addresses in the United States. Walkscore has a page that describes their algorithm – any amenity that is further than 1 mile away from an address is not considered "waking distance." All you Realtors who say your listings are within walking distance of Gayle's Bakery, take note.
I am doing an open house today for a new listing I have that I think is extremely walkable. I would think since it is so close to the Brown Ranch Shopping Center (where I work at Thunderbird Real Estate), it would have like a perfect walkability score. After all, the Brown Ranch center has lots of great shops and restaurants, as its almost-always-packed parking lot will attest.
The property address is 3526 Deanes Lane – if you look on a Google map, you will see that it is practically adjacent to the Brown Ranch shopping center. Yet, the walkability score for this address is only a 75 – "very walkable."
I plugged in some addresses of a few other listings I have – like 213 Coronado Drive in Aptos. This address gets a walkability score of 62 – somewhat walkable. However, in order to walk to, say, the Lucky Dragon restaurant, you'd either need to ford a creek and hack your way through heavy foliage, or walk all through the subdivision, back down to Trout Gulch Road, along Trout Gulch with all the fast moving traffic, down to Soquel, and then walk down Soquel, with much much more faster moving traffic (and no sidewalks, mind you) to arrive at the Lucky Dragon.
So there you have it. Another well-intentioned but somewhat-useless "Web 2.0" website – kind of like Zillow in that respect. Still, though, if you're at work and you're reading this blog entry and you have some down time before the boss walks by again, give it walkscore.com a look!