There's an abundance of preconceived notions when it comes to real estate, much of it based on outdated information. The way that homes are sold has radically changed in the past few years, and relying on out-of-date information can cost home owners tens of thousands of dollars when they go to sell. You'd be wise to avoid falling for these common myths about selling a home in San Jose CA.
Myth #1: You Get Back the Entire Cost of Home Renovations
The idea of spending big bucks on home renovation prior to resale is one of the most popular selling misconceptions. Sadly, the amount spent on home repairs is not often recaptured when a home is sold. Even though renovations do increase the value of your property, the amount which you may receive is often less than what it costs to do the renovation work – especially if you are paying a contractor to do it.  Check out this estimate from Zillow about how much renovations cost, and how much value they add: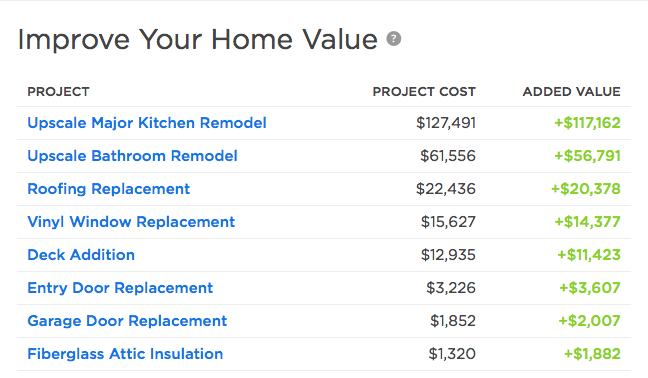 Myth #2: Location is Always the Single Most Important Factor
In every area, there are a handful of communities that are especially prized and sought after. Given the high demand, people assume that it will be a good investment for their housing dollar. However, the high demand areas are not automatically great investments; prices often tend to remain at the peak in these neighborhoods.  While they may maintain their value in down times, there may be less room for increase when times are good. Many professional real estate investors choose to buy homes in "up and coming" neighborhoods because they will at times have better short- and mid-term appreciation.
Myth #3:  Selling For-Sale-by-Owner Will Save You Money
Eliminating a real estate fee may not necessarily result in a higher bottom line. Real estate professionals know the market and understand how to best position your listing. Without that experience, you could select the wrong price, lose critical time, or fail to reach most of the buyers. All of this could cause a lower selling price – in many cases, even lower than what you're saving on commissions. There are many pricey mis-steps that you can make during the process without the counsel of a knowledgeable real estate agent.  While it's true that selling by owner will save the commission, the person who usually ends up saving the commission is the buyer, not the seller!
Myth #4:  It Is Better to Offer a Credit Than Complete Repairs Ahead of Time
Offering a closing incentive is not the best way for addressing vital or purely cosmetic repairs. If your home shows poorly, it's going to end up costing you. Poor initial impressions influence home buyers to reduce their offer amount. Many needed repairs can lead to reduced selling prices beyond the credit provided, because buyers imagine the issues are going to cost a lot more to fix than they really will.
Myth #5:  Pricing Does Not Matter in a Hot Market
Everybody wants to get maximum value. You hear that listings are receiving above the asking price, so you list your home above the range of others and expect an even better offer price. Pricing too high may be a huge mistake, even in a hot market. Other houses might have gone for above asking price because their starting price was very competitive – and buyers joined that competition en-masse!  You must not assume that you will receive similar results unless you too price your home competitively.
Staying Away from Common Myths About Selling A Home In San Jose CA
Purchasing a property is a substantial investment. When it comes to purchasing or selling homes, it is important that you're educated and make smart decisions. Use accurate facts rather than the common myths when selling a home in San Jose CA. Ask experienced real estate professionals to help you in the steps. This will enable you to sell faster, for a higher price, and with much less hassle, uncertainty, and risk.