There's no question that 2020 was unlike any year in living memory, and 2021 certainly got off to a rocky start. I'm optimistic that much of the turbulence is behind us, and that we'll be looking forward to a year of regrowth and relative normalcy. This Monterey & Carmel 2020 Real Estate Wrap-Up will be looking back on the year as a whole, rather than looking forward to what 2021 has in store.
To begin, let's take a look at the median single family home sale price in Monterey County between 1990 and 2020. As the chart below shows, home prices in Monterey County are at an all-time high, safely eclipsing the prior peak in 2005-2007.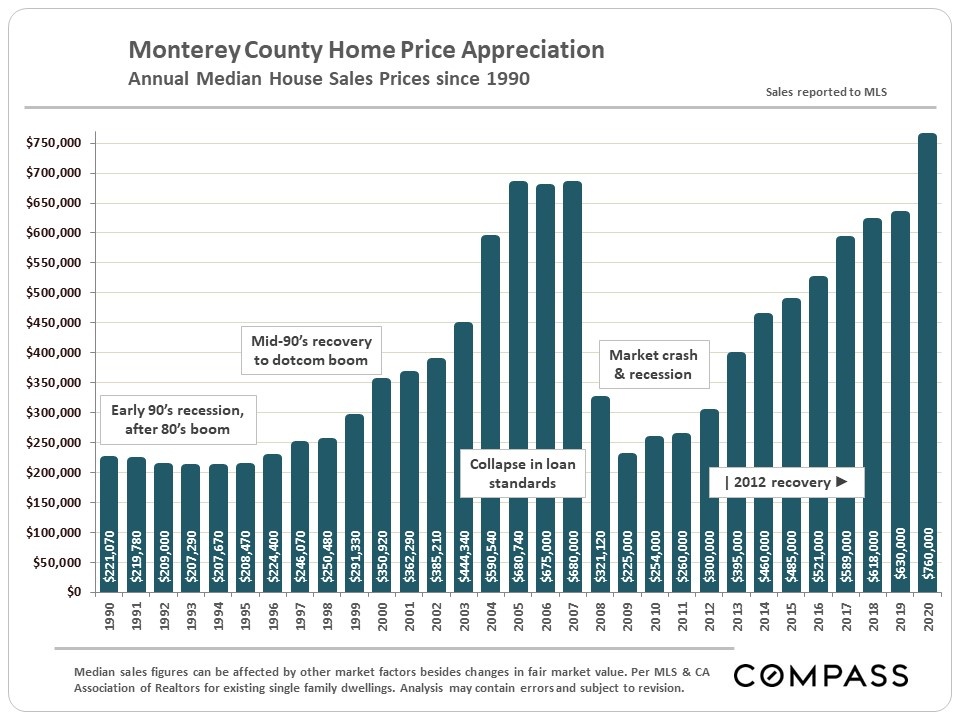 This next chart shows the amount of year-over-year median home price appreciation in all of Monterey County, in each year between 1994 and 2020. 2020 enjoyed the third-highest price gain in that time period, third only to 2004 and 2013.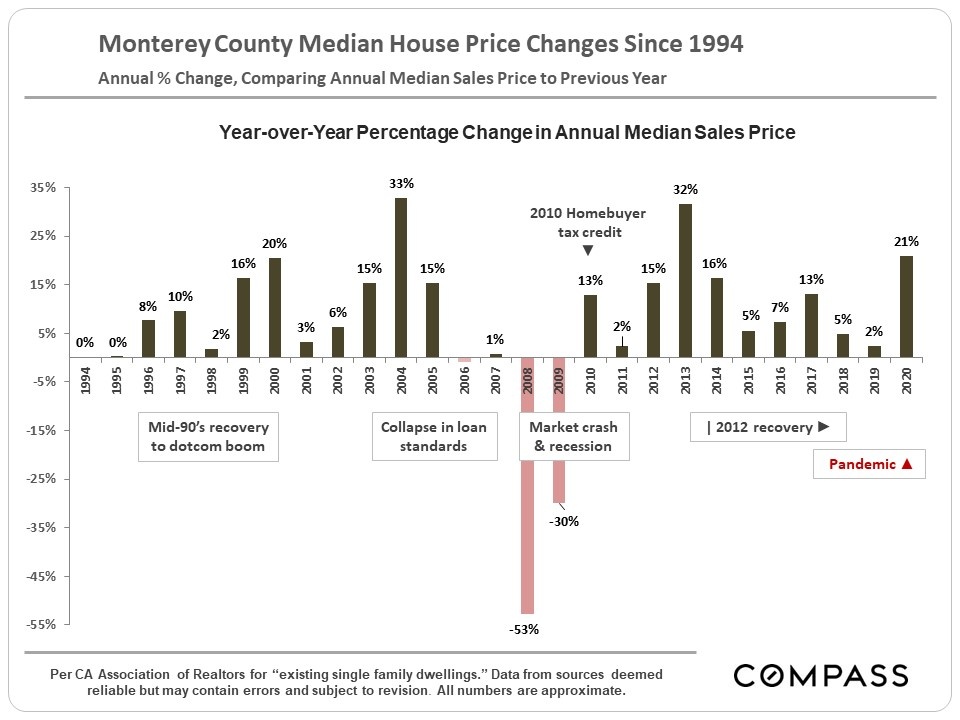 Check out this four year comparison of 2017, 2018, 2019, and 2020. It shows a number of metrics for single family home sales in the Monterey-Carmel-Pebble Beach region.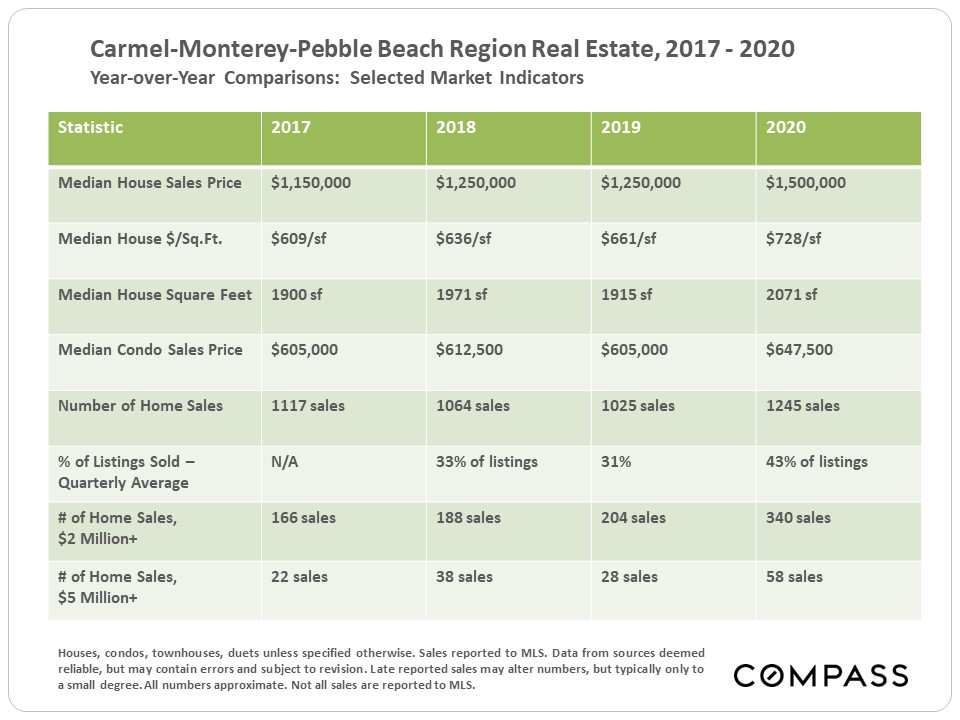 Now we'll take a look at home price appreciation only in the Carmel & city of Monterey region, between 1998 and 2020. As you can see, the median price in 2020 exceeds the 2007 peak by a significant margin.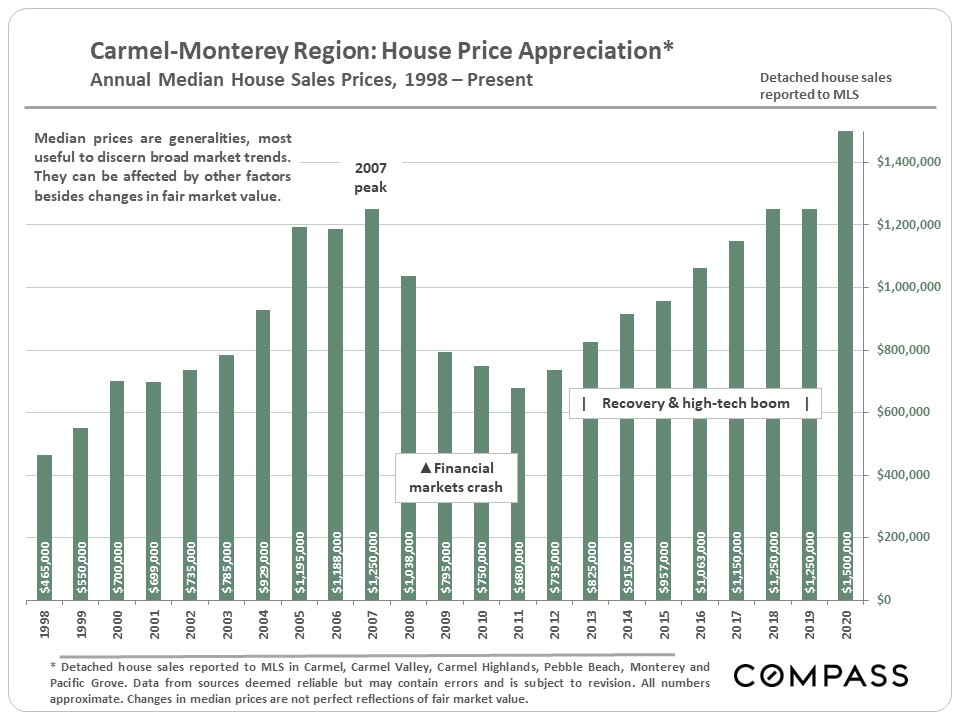 And we'll also look at that same data, but in terms of price per square foot rather than overall median price of homes themselves.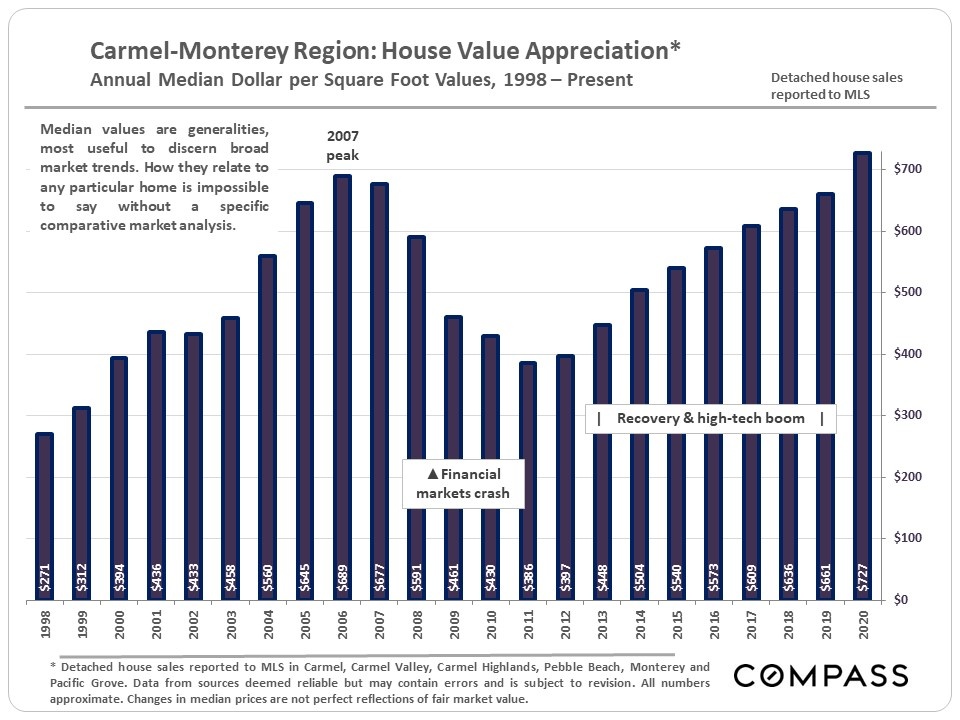 This next chart shows the median house price change between 1999 and 2020 for single family homes, just in the Carmel + City of Monterey region (not the whole county).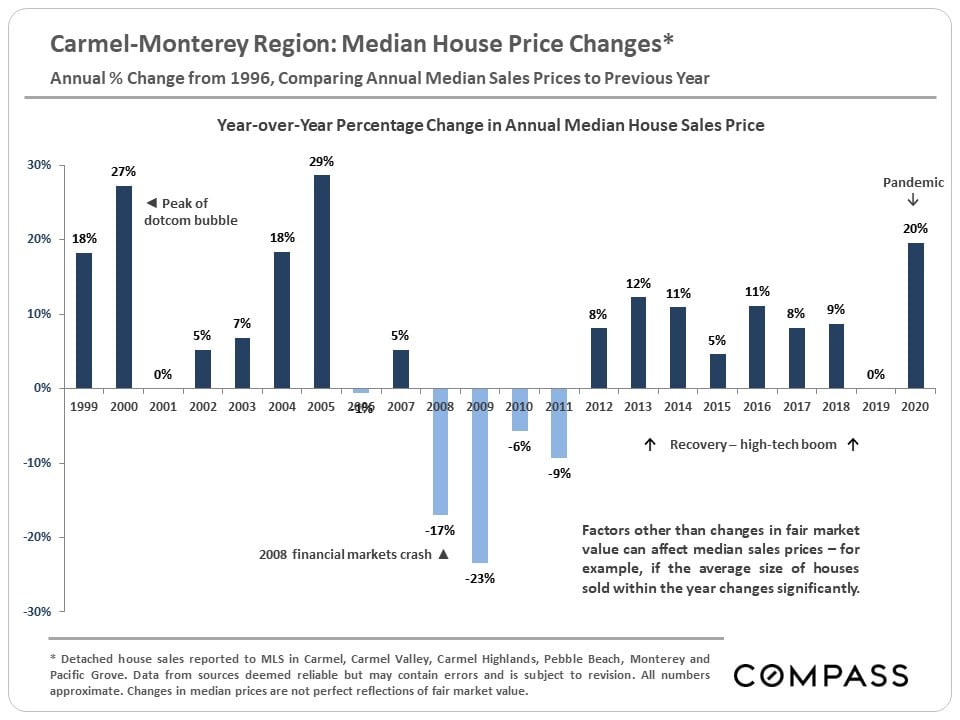 Let's take a look at where these houses are being sold. The following chart shows that the city of Salinas, unsurprisingly, had the largest share of sales. However, the "hamlet" of Carmel notched up more sales than the city of Monterey in 2020.
This article is focused primarily on the Carmel/city of Monterey portion of Monterey County, and this next table breaks down the market into distinct areas.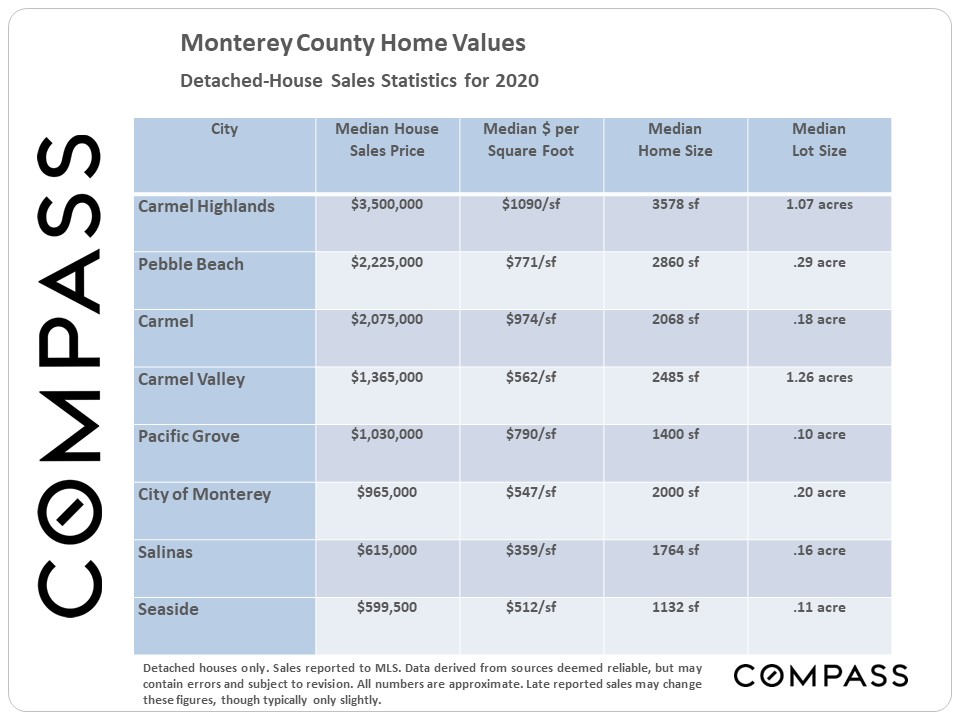 These next couple of charts break down median house sales price trends since 2012 for a select group of areas and cities in Monterey County.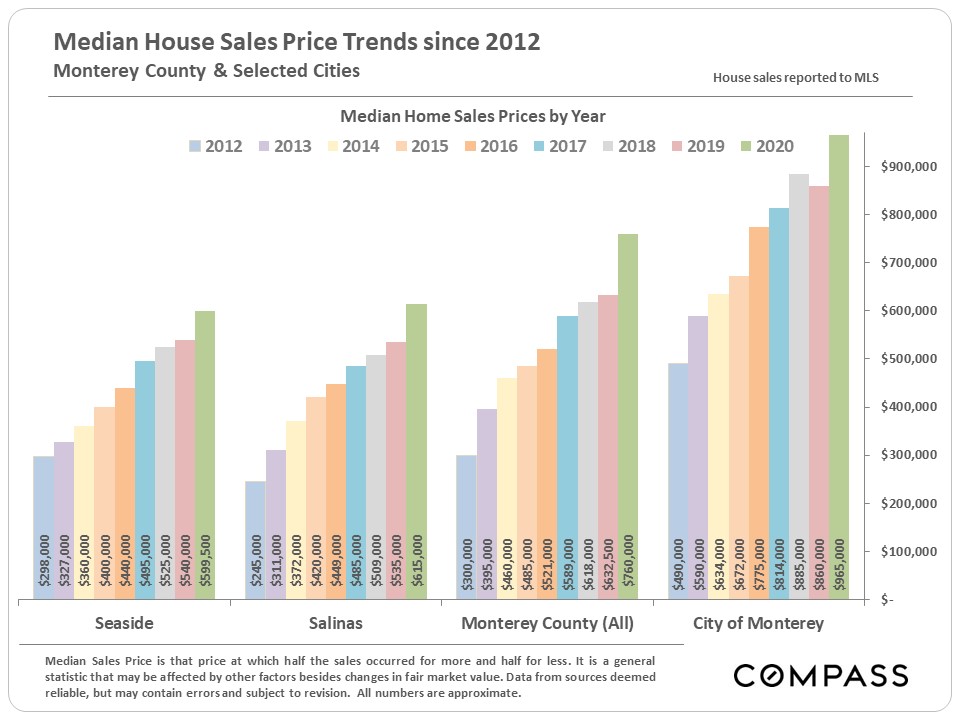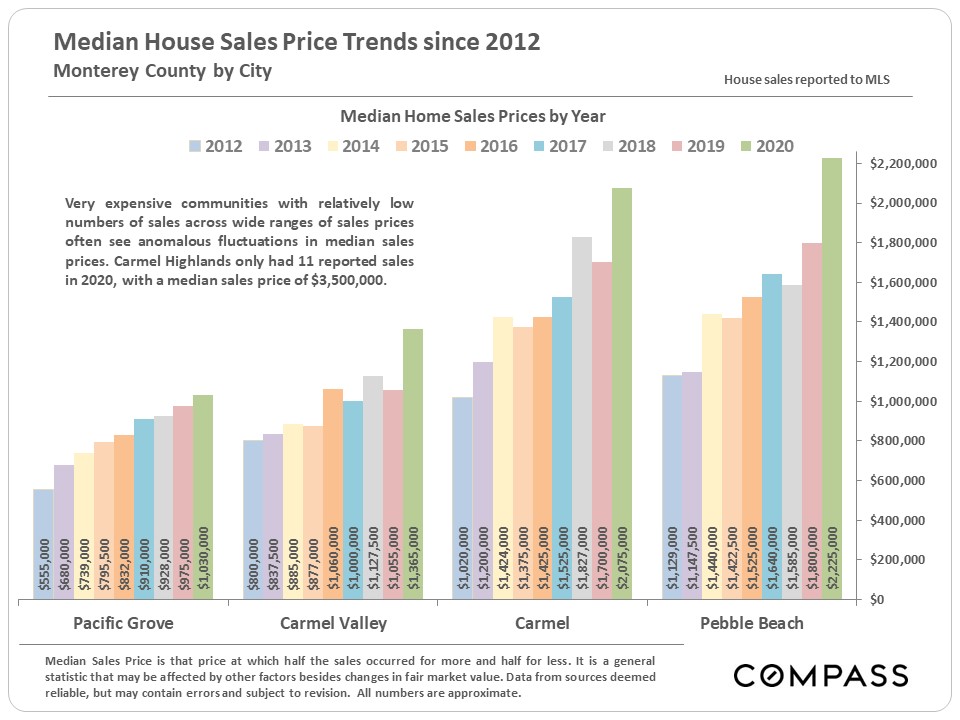 In many northern California markets, 2020 was a largely a tale of buyers fighting for houses amid a painful shortage of homes for sale. This was less true though in Monterey county, as shown in the following charts. However, while listings were up, sales were up nearly as much.
While home prices were up in 2020, home sales were also up considerably, as shown in the following chart: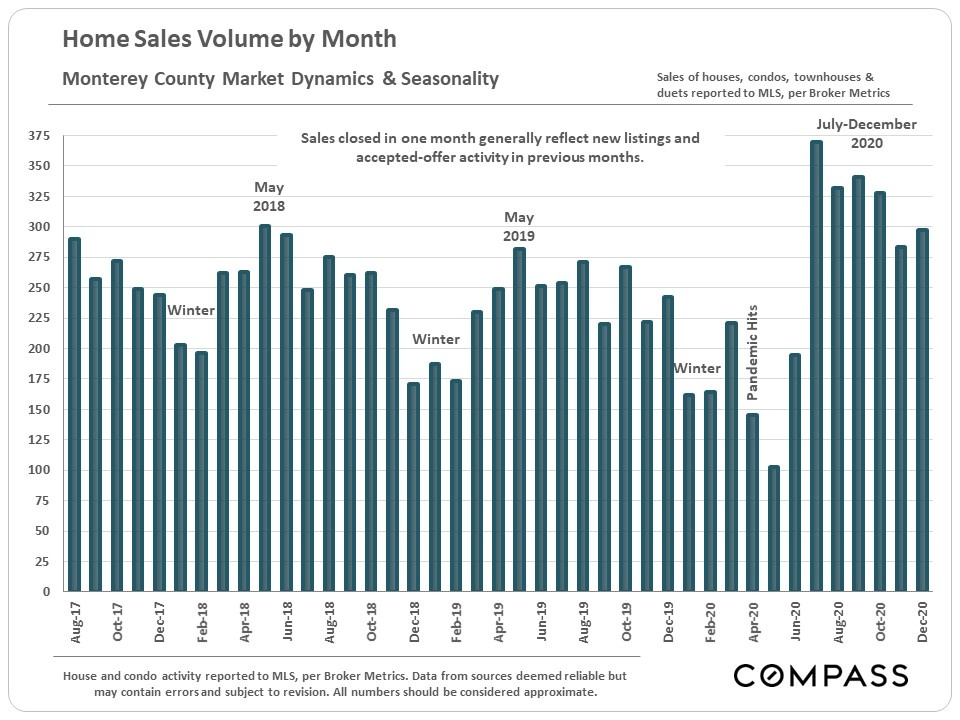 Luxury home sales were also up – WAY up, as out-of-area buyers moved in droves to be closer to the coast now that many are no longer required to be in an office every day.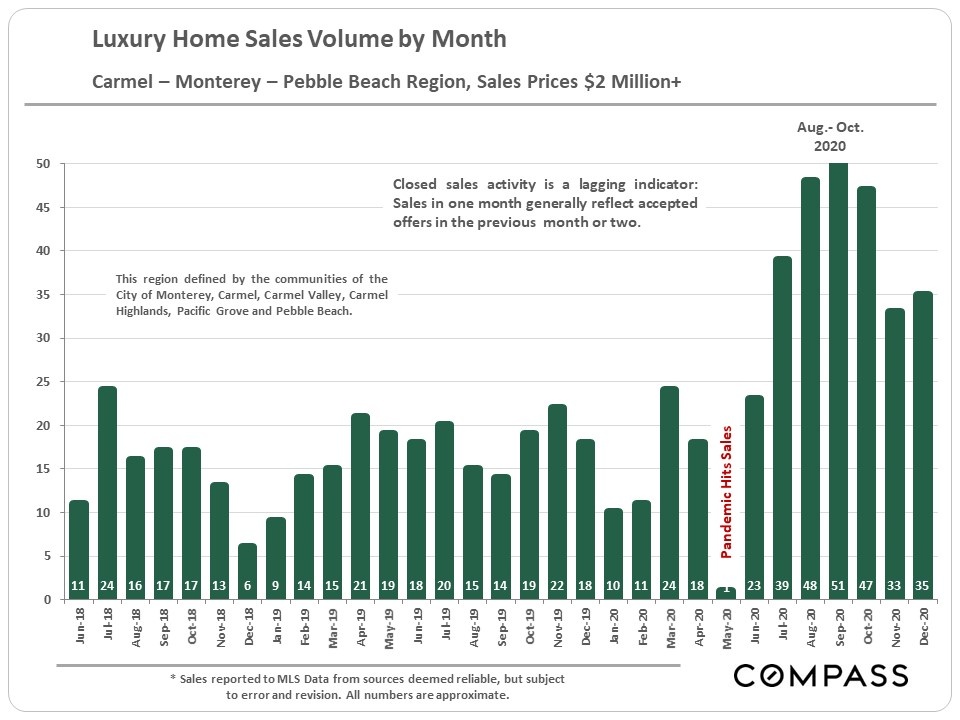 Homes in Monterey County are selling at the fastest clip since 2009 – and probably since long before that, too.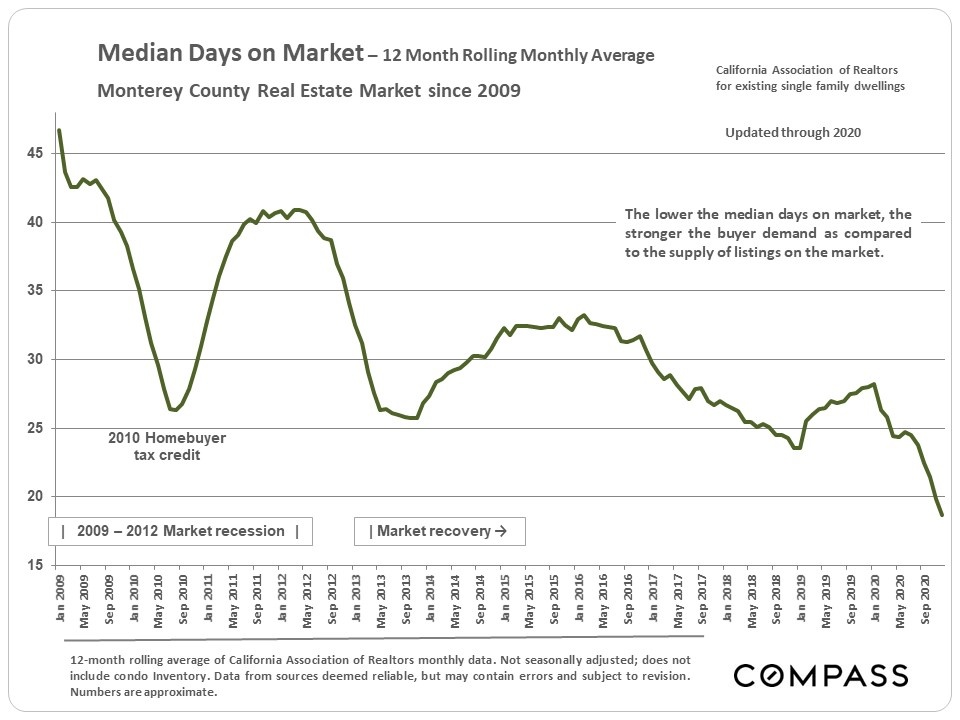 There are few homes for sale in Monterey county today, and the next chart illustrates how few choices buyers have, while also showing how little competition that most sellers are facing.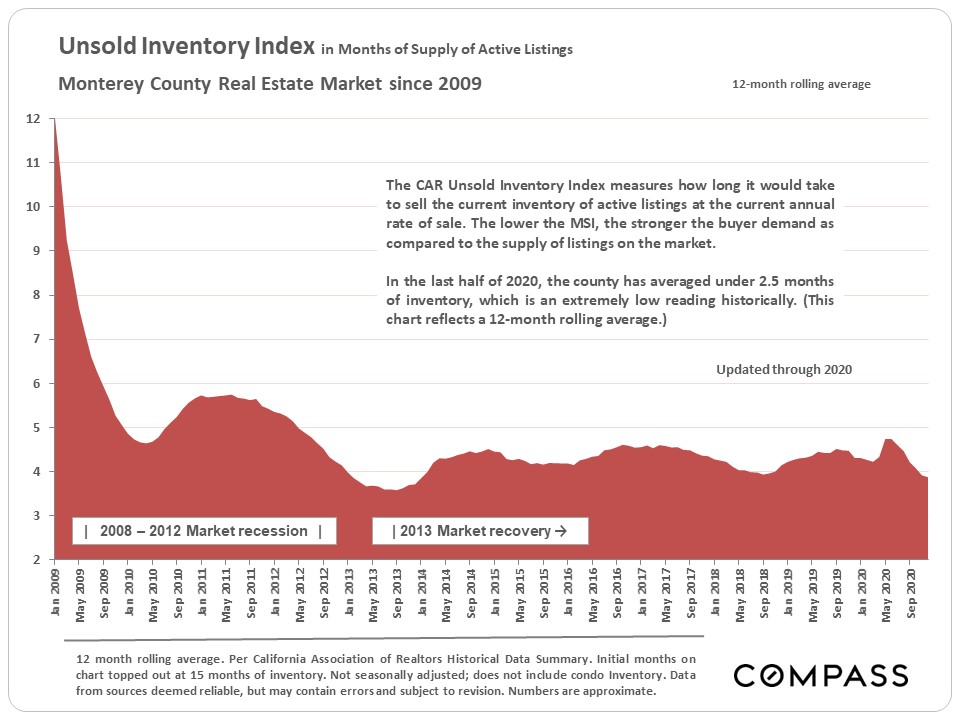 Looking back at 2020 as a whole, it is clear that the Monterey County real estate market defied all expectations. The question many readers will have now is: what will the 2021 real estate market be like? Look for me to address that question in future posts here on this site.