Well, the numbers are in, and we're looking better. For those of you who are really interested in knowing what's going on with real estate sales in Santa Cruz county, I want to remind you that I have a great page on my web site that gives you all kinds of ways to look at Santa Cruz Real Estate Sales Data. Also, I offer a monthly newsletter which offers an analysis of what the numbers mean, and this month's edition just hit the inboxes of subscribers.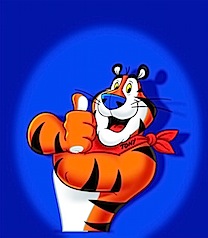 OK, maybe the numbers aren't grrrrrrrreat! like our friend Tony the Tiger would say. But they're certainly better than what we've seen lately. What's the scoop? For Santa Cruz county as a whole, sales and prices of single-family homes rebounded nicely in April compared to March. County-wide, there were 103 sales in April '08, compared to just 70 in March '08. Also, the median price of those homes rose 6.1% from March.
Comparing one month to the month before it isn't a terribly useful exercise, however. After all, we are approaching the peak selling season, so it's no surprise that sales numbers are up. However, it's a very good thing that sales numbers aren't down – that would be most unwelcome news.
It is, perhaps, more interesting to compare April '08 to April '07 – what do we see there? There, we see that the median price (again, county-wide) of single-family residences is down 11.8%, and in April last year, 132 homes were sold – so about 25% fewer homes were sold this April. The numbers are considerably worse for condos, but so few condos were sold (just 19 county wide) that it's difficult to really gauge what's going on in that market price-wise.
One thing I'd like to point out here is what's happening in Watsonville. There is an enormous amount of pending home sales in Watsonville – homes that are under contract, but the sales have yet to close. Many/most of these homes are foreclosure properties – there are some staggering bargains to be had. It will be interesting to see what happens to the sales numbers and median prices when these sales close.
I really encourage you to subscribe to my newsletter. I've got an interesting article in there this month about the problem with the foreclosure numbers – things are perhaps not so bad as they seem. Of course, if you are one of the many unfortunate homeowners contributing to the swelling statistics of foreclosure numbers, if things get really bad, you can always just walk away.