Are double-digit home price increases a thing of the past?
The median home price in Santa Cruz county in August 2014, was $674,000 – that's a "mere" increase of 9.1% from this time a year ago…but down 7.6% from the month before. It seems that we are finally getting a bit of a breather from these rampant, out-of-control price increases. Check out the last twelve months of Santa Cruz median price data:
It's kind of refreshing to see home price gains drop back down into the single digits. But there are several indicators pointing towards elevated prices, not the least of which is the available inventory. Inventory dropped 11.5% in a single month – and was down 29% year over year. That's pretty incredible, considering how tight inventory was a year ago. You can see the effects that low inventory has on prices, by looking at the price-vs.-absorption ratio chart below:
Home prices took a dip in August, but that's probably due to a comparative spike in supply of homes in June and July. If demand stays strong, and inventory continues to shrink, expect home prices to rise from their current level over the next couple of months.
Many people think that the spring and summer enjoy the highest home prices of the year; last year, the highest median home price of they year was recorded in November, when the median hit $680,000. If we are to continue this 18-month-long streak of median prices growing year-over-year, we'll need to exceed $680K come November. Given where inventory is today, it's easy to think that will happen.
What's YOUR home worth in today's market?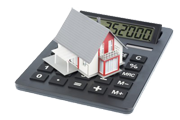 Home prices are up a healthy 9.1% compared to a year ago – but how much is YOUR home worth in today's market? Find out now with this free, quick, and accurate tool!
All in all, the Santa Cruz real estate market continues to exhibit rude good health. The question, as always, is: but for how long? Will the market continue to remain strong throughout the fall and winter, and into next spring? According to the Q3 2014 Zillow Home Price Expectation Survey, the analysts who were surveyed saw home prices continuing to appreciate though 2018, albeit at a slower rate than they are today, as seen in the chart below:
As always, to get the full, PDF version of my newsletter, broken down by different areas of the county and also by Single Family Residences as well as Condominiums, click here to download the full the Santa Cruz Real Estate Market Trends newsletter.
Please share my newsletter with anyone you think is interested in what's going on with the Santa Cruz real estate market – just send them the link and they can sign up to receive an e-mail every month when the newsletter is ready. Thanks so much for taking the time to read this – I hope to hear from you soon!