Discovering The Summit Store in Los Gatos, a quintessential community hub between Santa Clara and Santa Cruz counties.
History of The Summit Store
In the quiet town of Los Gatos, where Santa Clara meets Santa Cruz County, stands the historic landmark of The Summit Store. A charm from its early beginnings, the store has thrived since the 1930s and today stands as a testament to its resilient past.
With a welcoming atmosphere and an array of products ranging from groceries to delectable prepared foods, The Summit Store is an influential part of the local community. Continually fostering connections and providing for the daily needs of locals and visitors alike, this unique store is truly a cornerstone in the community.
Early Beginnings
The Summit Store wasn't always the community staple you see today. Its roots descend into the past when it started as a simple country shop. It was founded by families with a vision of providing necessities for people in the mountain hilltops.
The Summit Store, once a simple country shop, transitioned into a significant community hub, embodying the essence of the hilltop community in Santa Clara and Santa Cruz counties.
Over the years, this humble shop transitioned into more than just a grocery store. It embodies the essence of the community and has become an amenity for locals, functioning as a gathering point for the hilltop community.
Making this transformation wasn't easy. It demanded significant resilience and a keen understanding of the local community. The Summit Store, with its adaptability and resolve, has continually evolved, firmly embedding itself in the heart of residents.
Old Location and Relocation
Thriving for decades at its original location, The Summit Store has become a cornerstone in the community's history. Its relocation heralded a new chapter, bringing about exciting changes – a larger space, improved facilities, and an enhanced shopping experience.
The store's transformation didn't happen overnight. There were long months of planning and execution. However, their dedication to providing unparalleled service remained a constant, even during this period of change.
Today, The Summit Store stands tall at its new location. This testament to their resilience typifies the spirit of embracing change while staying true to their roots. It's more than a relocation; it's about growing with the community.
Products and Services Offered
The Summit Store, truly the heartbeat of the community, offers an impressive lineup of diverse products and services. From fresh produce to a variety of gourmet deli items, it caters to every grocery need.
At The Summit Store, you get much more than ordinary supplies. Not limited to groceries, their wide range includes deli and prepared foods, beer, wines and more, making every visit a unique experience.
Grocery Items
Perched atop the Santa Cruz Mountains, The Summit Store is more than just your average grocery store. It provides an exciting array of items to cater to the diverse needs of the community between Santa Clara and Santa Cruz counties.
A wide range of fresh and packaged foods
Visitors can explore an assortment of organic and gluten-free items
Exceptional variety of gourmet cheeses and specialty foods
Cakes, pastries and other baked goods made daily from scratch
Meats and poultry sourced from trusted, local ranches
Canned goods that include locally produced jams and jellies
Fresh Produce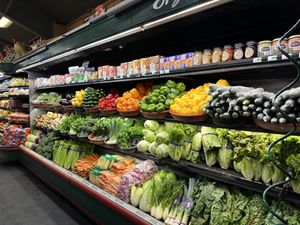 Savoring the freshness that comes from each season, The Summit Store in Los Gatos is your go-to place for locally sourced fresh produce. From farm to fridge, engaging with the community is a pivotal part of this tradition.
Organic fruits and vegetables are brought in from local farms.
Seasonal offerings keep the produce section exciting year-round.
Berries, apples, and citrus fruits are staple items in our produce aisle.
Fresh herbs and spices add a delicate touch to your dishes.
From root vegetables to leafy greens – there's a spectrum of choices for every palette.
Local specialty items such as Santa Cruz apples and Gilroy garlic are customer favourites.
Deli and Prepared Foods
The Summit Store's delicatessen and prepared foods section combines homemade quality with convenience. This selection indulges every palate with its variety of flavors.
Savor freshly baked bread and delectable pastries
Try a diverse selection of gourmet sandwiches
Delight in delicious cold or hot salads
Indulge in ready-made appetizing pizzas
Taste daily homemade soups and nourishing stews
Enjoy a wide range of meats, cheeses, and delicatessen items
Beer and Wine Selection
Raise a glass and explore The Summit Store's diverse selection of beers and wines. Sip back and relax as you navigate through a broad range of international and local brews, tempting both the occasional drinker and the seasoned connoisseur.
Wide array of craft beers from top breweries
Varied selection of wines, including Cabernet Sauvignon, Chardonnay, and Pinot Noir
Local favorites from Santa Clara and Santa Cruz County wineries and breweries
Monthly specials showcasing lesser-known wines or seasonal beers
Knowledgeable staff who can assist in choosing the perfect drink
Community Events
Making spirits soar, The Summit Store ignites local bonds through lively community events. From the sizzling summer BBQ to the colorful holiday craft fair and weekly local music nights, there's never a dull moment!
Playing a pivotal role in the community, The Summit Store is more than just a store. Hosting a roster of events all year round, it knits people closer together, creating a warm and welcoming atmosphere.
Annual Summer BBQ
Perfectly capturing the essence of summertime, The Summit Store's Annual Summer BBQ is a time-honored tradition cherished by the community. The flavorful barbecues and camaraderie define these warm, vibrant gatherings.
The BBQ event brings everyone together, engaging both locals and visitors in an atmosphere of shared celebration. Joyful chatter, the sizzle of grills, and the intoxicating aroma of smoky barbeque create an unforgettable sensory canvas.
At the Summer BBQ, The Summit Store takes pride in being more than just a grocery store. This gathering reinforces their commitment to the community and showcases the importance they place on fostering local connections.
Local delicacies steal the spotlight at the BBQ, expertly prepared by the store's own culinary team. Succulent ribs, grilled seasoned vegetables, and delectable homemade sauces signal the arrival of summer at The Summit Store.
Year after year, many eagerly anticipate this culinary event. The Annual Summer BBQ at The Summit Store continues to be a harmonic convergence of community spirit, lip-smacking food, and the simple pleasure of shared experiences.
Holiday Craft Fair
Celebrating the holiday season, The Summit Store hosts its annual Holiday Craft Fair – a vibrant showcase that brings local artisan creativity to the community. The event provides people with a unique opportunity to buy handmade gifts while supporting local artisans and crafters.
Our Holiday Craft Fair boasts an impressive array of items. From exclusive handmade ornaments to intricate jewelry, each stall holds wonders that echo the joyous spirit of the holiday season. There's a tangible sense of community as customers browse and shop while enriching their holiday experience.
The Summit Store prioritizes local talent, making the Craft Fair a must-experience holiday event. From the scent of hand-poured candles to the textures of handmade scarves, one can easily lose themselves in the myriad of artisanal crafts, showcasing the immense talent nestled within our community.
Your visit to our Craft Fair doesn't just support local talent, it's also a chance to cherish the warmth this community has to offer. The Summit Store's Holiday Craft Fair, with bespoke crafts and boundless creativity, is indeed a joyful and charming trade, epitomizing the spirit of giving and delighting in the holiday season.
Local Music Nights
Embracing the vibrant local culture, The Summit Store hosts regular Music Nights. These nights infuse rhythm and enthusiasm into the store's casually cordial ambiance. Local musicians are invited to perform, setting a melodious backdrop to your grocery shopping experience.
Designed to fortify community bonds, the Local Music Nights are more than a mere entertainment source. They offer a platform where neighbors meet, enjoy local talent, and share conversations over sublime music and fine wine.
The Summit's music nights display a harmonious blend of culture, community, and commerce. It is a time when the store transforms from a commonplace grocer into a local hub buzzing with spirited rhythms, lively chatter, and amiable interactions.
Community Involvement
Fully embracing its pivotal role, The Summit Store is a cornerstone for community involvement. By supporting local farmers, contributing to community events, and sponsoring local sports teams, the store strengthens neighborhood ties and embodies the spirit of the community.
Bearing true testament to 'Standing Together, Growing Together', The Summit Store thrives on fostering community development. Their continual engagement in local initiatives reflects their commitment to fostering a thriving and cohesive community.
Supporting Local Farmers
The Summit Store is committed to enriching the community by fostering strong connections with local farmers. This nurturing relationship ensures the freshest, tastiest, and most nutritious produce hits the shelves.
The store places great emphasis on a supply chain that favors local farmers, bringing you goods literally from the heartland to your table. By choosing The Summit Store, you're supporting our local farmers and sustainability efforts right here in our community.
Sponsoring Local Sports Teams
Cheering on community spirit, The Summit Store plays a pivotal role in sponsoring local sports teams. Their active involvement adds to the vibrant spirit, stimulating a lively atmosphere in our mountain community.
Demonstrating a blend of small-town charm and sports enthusiasm, The Summit Store amplifies its engagement by granting sponsorships to several local high school and college teams. It is this philanthropic side that truly sets them apart.
From boosting morale with custom jerseys to facilitating better training equipment, The Summit Store is a cornerstone, supporting our young athletes. Their belief in our community's talents makes dreams possible, goals reachable.
Their contribution is not merely financial but deeply emotional, building connections with every game, every player. Through their sponsorships, The Summit Store fosters unity and camaraderie, weaving an eclectic blend of sportsmanship into our community's fabric.
Visitor Information
Located atop the scenic peaks between Santa Clara and Santa Cruz counties, The Summit Store is an experience not to be missed. Plan your visit – ensure your GPS is set to 24197 Summit Road, Los Gatos for the most direct route to our vibrant community hub.
We offer ample parking in our spacious lot, and we're open seven days a week for your convenience. Our welcoming staff is always ready to assist; call us at (408) 353-2229 for any inquiries. Do remember, we close at 7 pm on weekdays, and 8 pm on the weekends – arrive early to make the most of your visit.
Directions and Parking
Nestled atop the Santa Cruz Mountains, getting to The Summit Store is a scenic journey. Simply follow Highway 17 to Bear Creek Road. Turn right on Old Santa Cruz Highway then left on Summit Road. It's a serene drive to be enjoyed.
Not familiar with our area? Modern tech is here to help. Just type 'The Summit Store, Los Gatos' into your favourite navigation app. You'll be guided through the picturesque routes we locals know and love.
Parking won't be a worry once you're here. Our ample parking area can accommodate even the busiest days. The large lot allows easy roundabout, reducing the hassle of reversing out of tight spaces.
Plus, accessibility is something we take seriously. We've specially designed parking spots for customers needing a closer access to the store. It's all about making your shopping experience seamless from start to finish.
Store Hours
Gracing the mountains between Santa Clara and Santa Cruz counties, The Summit Store opens its doors with the rising sun at 7 am, and remains a beacon for shoppers until moonrise at 8 pm. With extended hours during the summer, you're always welcome to fit a visit into your busy day.
Guided by a philosophy of service and commitment, The Summit Store aligns its operating hours to match yours. Open all seven days, we're here to cater to your grocery essentials, striving to make your shopping experience as comfortable and convenient as possible.
Contact Information
Reaching out to The Summit Store is simple. Their friendly staff can be contacted via phone at their direct store line (408) 353-2186. This is a great line to call for direct inquiries and clarity on product availability.
For email correspondence, customers are encouraged to reach out to them at [email protected]. Whether it's pre-ordering your favorite deli item or having questions about the store's events, this an email you'd want to have handy.
When you are near The Summit Store, you can take advantage of the free Wi-Fi service to check their website for updates. The website is a storehouse of information, including new products, events, and community news.
Plus, you can also connect with them on social media – The Summit Store is active on Facebook and Instagram. They regularly update their followers on new products, special deals, events and much more! Always stay connected.