Experience serene weekends exploring Wilder Ranch State Park, just a short drive from Santa Cruz and near the coastal town of Davenport. Discover its beauty, activities, and nearby attractions for the perfect Bay Area getaway.
Explore the Beautiful Wilder Ranch State Park
There's a certain tranquility that settles upon all who venture into Wilder Ranch State Park. Abundant with winding trails, scenic coastlines, and rich wildlife – it's a slice of natural beauty that everyone must experience.
Wilder Ranch State Park offers a range of activities that appeal to all ages. There's never a dull moment here, whether it's exploring historic ranch buildings, picnicking with breathtaking views, or immersing in nature through its many trails and wildlife viewings.
Location and Access
Getting to Wilder Ranch State Park from the Bay Area is an easy and straightforward venture. This 7,000-acre park is located just off Highway 1 in Santa Cruz, making it a convenient drive
Wilder Ranch State Park, just a 2-hour drive from the Bay Area, offers a scenic journey along Highway 1 and exceeds 7,000 acres of stunning wilderness perfect for a weekend getaway.
From most spots in the Bay Area, a drive to the park will take less than two hours. For exact directions, simply input 'Wilder Ranch State Park' into your favorite GPS system.
One of the most scenic routes is along Highway 1, offering stunning views of the California coastline. This route takes you directly to the entrance of the park.
The park is easily accessible, thanks to the numerous road signs pointing the way. Be assured, getting lost won't be an issue.
Once you arrive, simply follow the signs to the parking area and visitor center. Remember, the key to a great adventure is just a drive away. Head on over this weekend!
Hours of Operation
A day at Wilder Ranch State Park calls for a full day's affair, and its flexible hours of operation allow for just that. Open from 8 AM until sun down, there's ample time to soak up the experience. There's this unmatched joy in witnessing dawn break or dusk settle over the park.
With so much to do and see, it's crucial to time your visit correctly. Summer time proves to be perfect for a visit due to longer daylight hours. This gives you a generous time frame to explore the vast 7,000 acres.
For early birds who appreciate quiet moments, arriving the moment gates open at 8 AM allows you to enjoy the park in relative solitude. It's a serene way to start the day, nature's orchestra playing just for you in the backdrop.
Wilder Ranch State Park experts have a special tip. The best time to visit the park? Late afternoon, when dusk is starting to descend upon the land. The setting sun paints a magical picture, one that's guaranteed to take your breath away.
Lastly, keep an eye on the calendar – the park follows standard holidays and might have special closures. Always check official California State Parks website for up-to-date information. This ensures your visit goes smoothly without any hiccups.
Entrance Fees
An adventure in Wilder Ranch State Park comes with a moderate expense. The entrance fee is around $10 per vehicle, just enough to contribute towards the park's upkeep and the preservation of the wonderful vistas and historical sights.
The cost of a single-person entry for hiking or biking into the park is notably lower, at around $3. This makes it a budget-friendly option for adventurers who love stretching their legs and taking in the natural beauty.
Does a family day out sound like the perfect weekend? For families, the value is in the diverse experiences available. Despite the nominal entrance fee, the authentic opportunities for recreation, relaxation, and learning are truly priceless.
Getting an annual pass can be cost-saving for regular visitors. This means unlimited visits throughout the year, allowing you to experience the different shades of the park across different seasons. Remember, every penny goes towards preserving this gem for future generations to enjoy.
Activities to Enjoy at Wilder Ranch State Park
If you're seeking family-friendly activities in Wilder Ranch State Park, you'd be in for a treat. Witness history come alive at the beautifully maintained historic buildings, or enjoy a scenic picnic amidst nature's bounty. The park also offers thrilling special events and programs that are bound to pique your family's curiosity.
Wilder Ranch State Park is the perfect place to unleash your inner adventurer. Packed with picturesque hiking and biking trails, vibrant wildlife, and opportunities for horseback riding, the park is sure to offer unforgettable experiences for thrill-seekers and nature lovers alike.
Hiking and Biking Trails
Wilder Ranch State Park is a hiker's paradise and a cyclist's dream, with over 35 miles of trails beckoning you to explore. Every trail here is filled with nature's captivating artistry, leaving you fascinated at every turn, in every ride or stride.
The jaw-dropping vistas along the Old Cove Landing Trail for casual hikers.
Enthralling wildlife sighting points located throughout the trails.
The more rugged Baldwin Loop Trail for mountain bikers.
Engelman Oak Loop, a family-friendly biking trail.
Horseback Riding
Saddle up for an unforgettable weekend at Wilder Ranch State Park with its fantastic horseback riding opportunities, perfect for a family ride or a private trot alongside scenic vistas.
Transform your weekend into a thrilling adventure with horseback riding
Create unforgettable family memories
Experience the stunning views and verdant landscapes at a leisurely pace
Suitable for both beginners and seasoned riders
Enjoy guided rides with professional instructors
Picnicking
Imagine unpacking your basket under the shade of a tree, the ocean breeze whispering through the branches while your kids frolic in the open fields. Wilder Ranch State Park offers some of the most ideal picnicking spots in the Bay Area.
Well-maintained grassy areas that are perfect for laying down a picnic blanket
Several picnic tables scattered throughout the park, first-come, first-served
Access to potable water and restrooms near the picnic areas
Breathtaking ocean views that elevate your picnic experience
Easy accessibility from hiking and biking trails
Close proximity to historic farm buildings and exhibits for post-picnic exploration
Nature and Wildlife Viewing
Awaken your wild side at Wilder Ranch State Park that houses a myriad of flora, fauna, and breathtaking scenery. It offers plenty to captivate the nature enthusiast and offers a glimpse of California's diverse wildlife.
Spot majestic raptors soaring in the sky or deer making their way across the meadows.
Explore the park during different seasons to appreciate the vibrant blooms that deck the rugged landscape.
Follow the scenic trails through stands of Monterey Pine and Coastal Scrub to discover new habitats.
Keep an eye out for unique insects, slugs, and other small wonders of nature at every turn.
Historic Buildings and Farm Exhibits
Enrich your weekend journey with a step back in time by exploring the historic buildings and engaging farm exhibits at Wilder Ranch State Park.
Intriguing Victorian homes from the late 19th century
Mesmerizing Water-powered machine shop
An authentic and operational 1896 model blacksmith shop
Captivating 1897 Victorian dairy ranch
Educational farm exhibits featuring vintage farm equipment and tools
Rare opportunity to see farm animals including horses, chickens, and more
Interactive demonstrations about early California ranching and farming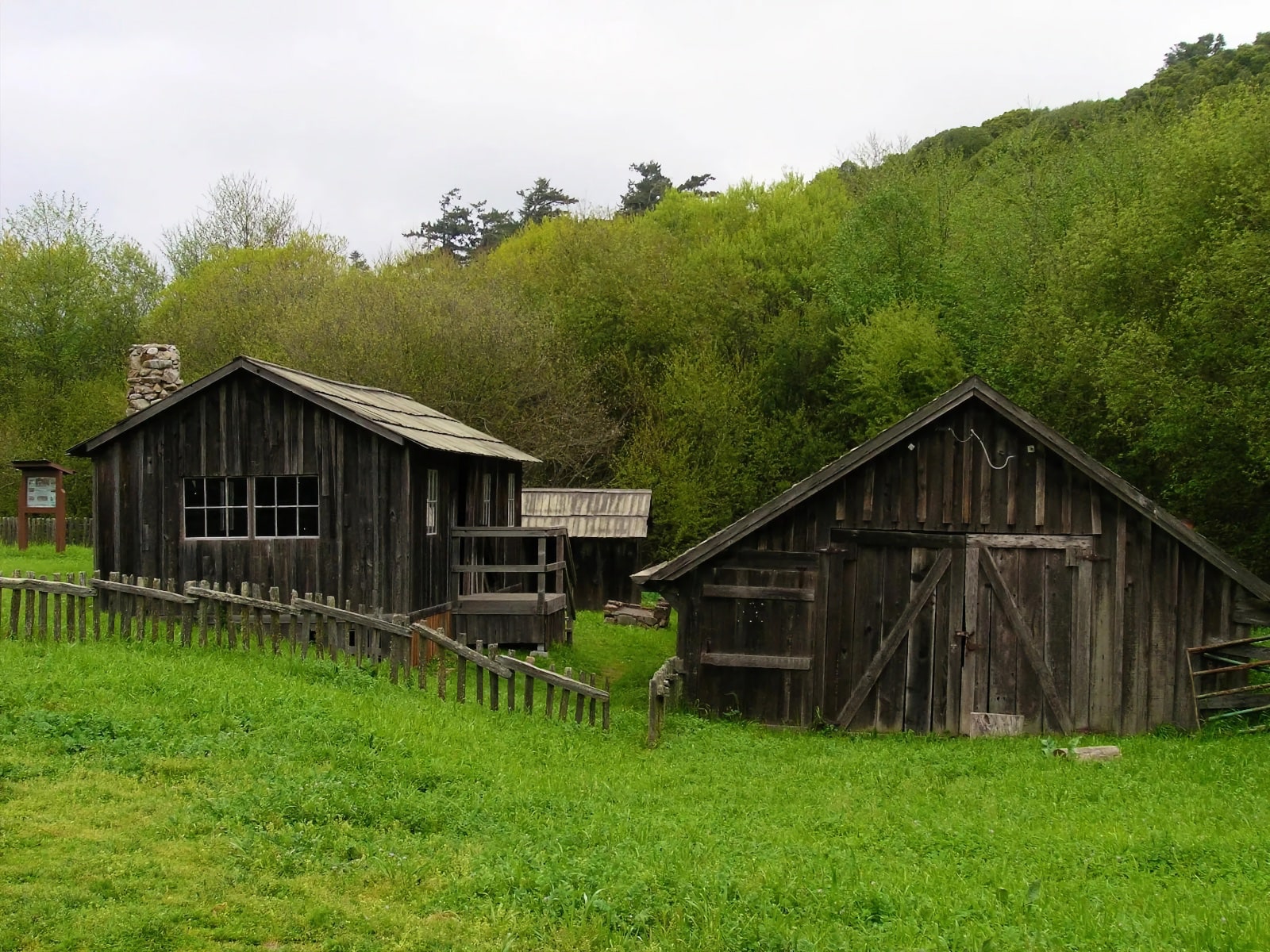 Special Events and Programs
Step back in time with seasonal guided tours at Wilder Ranch State Park. Unveil intriguing layers of history as expert guides recount fascinating stories of yesteryears. Engaging and educational, they're a must-try!
Grab the chance to partake in special events organized at Wilder Ranch State Park. From guided nature walks, wildlife photo tours to interactive agricultural events, there's something to pique the interest of every member of your family.
Don't let memorable opportunities pass you by. Explore activities like the annual Fall Harvest Festival or Living History Demonstrations. Offering unique experiences, these events give you vibrant insights into the park's cultural and natural heritage.
Tips for Visiting Wilder Ranch State Park
Remember to pack plenty of water, sunscreen and a hat for your Wilder Ranch State Park visit. Keep in mind that pets aren't allowed on the trails or inside buildings. Bring your binoculars for wildlife viewing, and ensure to stay on designated paths to protect the natural habitat.
Arrive early, especially on weekends, to secure parking and avoid midday heat. Consider visiting during off-peak seasons for a more serene experience. Familiarize yourself with trail maps and park rules before heading out and remember, plan ahead, leave no trace.
What to Bring
Naturally, essentials for your adventure to Wilder Ranch State Park include sturdy footwear and clothing appropriate for the weather. Don't forget your sun protection—sunscreen, hats, and sunglasses. A well-stocked first aid kit and water bottles for everyone in the family are must-haves.
For items that will ensure a smooth visit, consider comfortable backpacks for carrying provisions. Snacks and a picnic lunch can be a delightful break during your hiking or biking adventures. Insect repellent and wet wipes might also prove useful during your visit.
If you're planning to stay the day, bring along blankets or chairs for a comfortable break. Oh, and don't forget your camera! With the stunning coastlines, picturesque hiking trails, and fascinating wildlife, you'll want to capture as much of the memory as possible.
Visitors with little ones should pack necessities like diapers, wipes, and additional clothing for the kids. Binoculars can add fun to the wildlife-viewing, especially for curious kiddos! Whatever your plans, a prepared visitor is a happy visitor to Wilder Ranch State Park.
Best Times to Visit
With California's beautiful weather all-year-round, there's not a bad time to visit Wilder Ranch State Park. However, the park tends to offer the wealthiest colors during spring and autumn, bringing a vibrant charm to your adventure.
Favoring an early start or a late afternoon visit can help you beat the crowds and transform your day into a serene state park escapade. Weekdays are commonly less populated, offering you a more peaceful exploration of the ranch's beauty.
Parking and Facilities
Wilder Ranch State Park offers ample parking spots to make your visit hassle-free. The main parking lot is spacious, accommodating many cars. However, it's a good idea to arrive early in the morning or late evening during weekends because it can get crowded.
When it comes to the park's facilities, restrooms are situated close to the visitor center and picnic areas, ensuring that your family's comfort is never compromised. They are maintained well and cleaned regularly.
An important facility of Wilder Ranch State Park is the visitor center. Here, you can find information on park maps, trail guides, and safety guidelines. It also houses exhibits about the park's rich history and wildlife.
Several picnic areas dot the park, allowing you to have an outdoor dining experience. You can enjoy a meal while basking in the natural beauty of the park. Remember to clean up after yourselves to maintain the park's cleanliness.
Last but not least, the park is well-equipped with facilities for hikers and bikers. Separate cycling and walking paths, trailside maps, and signage make navigation easier. Bike stands and resting spots enrich your riding or hiking experience at Wilder Ranch.
Safety Precautions
When it comes to Wilder Ranch State Park, we cannot ignore the importance of your safety. Always look for and follow trail markers; they're there to help keep you safe. Plus, ensure you're aware of your surroundings while exploring to avoid hidden dangers.
As you enjoy the beauty of Wilder Ranch State Park, remember to stay on the designated trails. Rushing rivers, deep ravines, or uneven terrain can present hazards if you wander off the path, so steer clear of these areas to avoid accidents.
Lyme disease from ticks is a potential risk in Wilder Ranch State Park, especially during warmer months. Wearing long socks tucked into your pants, using insect repellent, checking your skin after hiking, and avoiding dense vegetation can help prevent tick bites.
Parents, take note! At Wilder Ranch State Park, the cliffs and ocean bluffs can be quite steep. Make sure to keep a close eye on your children, especially near these higher-risk areas. It's best to prevent accidents instead of reacting to them.
Finally, the golden rule at Wilder Ranch State Park – pack out whatever you pack in! Littering harms the natural environment and poses a risk to local wildlife. Let's ensure that our weekend getaway does not harm this beautiful destination.
Exploring Nearby Attractions
Going beyond the borders of Wilder Ranch State Park opens up a plethora of invigorating activities. Visit the quirky Mystery Spot, ride thrilling roller coasters at Santa Cruz Beach Boardwalk, or unwind at the peaceful Natural Bridges State Beach.
Extend your adventure and immerse yourself in the majestic beauty of the nearby Henry Cowell Redwoods State Park. These nearby spots ensure the fun never ends, offering experiences that complement your Wilder Ranch adventure.
Santa Cruz Beach Boardwalk
Situated merely 11 miles away from Wilder Ranch State Park, you'll find the enchanting Santa Cruz Beach Boardwalk, offering a lovely seaside retreat. This vibrant, old-fashioned amusement park boasts a wonderful array of thrilling rides and classic arcade games. Perfect for families looking for a fun-filled weekend!
From the serene beauty of Wilder Ranch, take a short drive to experience the lively vibes of the Santa Cruz Beach Boardwalk. It's an unmissable location that presents the perfect balance of nature and amusements.
The Santa Cruz Beach Boardwalk is not just about rides and games; it also offers a beautiful sandy beach, where one can unwind after exploring the trails at Wilder Ranch. Witness the stunning sunset, build a sandcastle with your kids, or simply bask in the picturesque scenery.
Feasting on delicious treats like saltwater taffy, corn dogs, and clam chowder is a must! After hiking through Wilder Ranch's varied terrains, the comfort food at Santa Cruz Beach Boardwalk will be just the thing to wrap up your adventurous day!
Natural Bridges State Beach
Glistening moments away from Wilder Ranch State Park is Natural Bridges State Beach, a spectacle of natural beauty. This underrated gem of the Bay Area offers a dramatic scene of rock formations veined by the sea, making it an irresistible stop during your Wilder Ranch adventure.
Unwind from the busy city life and let your footprints mark the soft sands of Natural Bridges State Beach. Feel the cool sea breeze against your skin, and witness the spectacle of migrating monarch butterflies during winter. This natural escapade is a stone's throw away from Wilder Ranch.
Don't confine your weekend getaway just to Wilder Ranch, when you have the picturesque Natural Bridges State Beach close by. Here, you can marvel at the unique rock formations sculpted by Mother Nature herself and enjoy a memorable coastal sunset to cap your day's adventure.
Natural Bridges State Beach, with its iconic arched rock formation, forms a magnificent backdrop set against the setting sun. Enjoy beachcombing, bird watching, or simply picnic amidst this dazzling slice of nature adjacent to your Wilder Ranch excursion.
Cater to the nature lover in you with a visit to Natural Bridges State Beach, a seamless addition to your Wilder Ranch journey. It is a visual treat with its iconic rock formations, panoramic ocean views, and fascinating wildlife. A weekend trip to Wilder Ranch and Natural Bridges State Beach offers the best of both worlds.
The Mystery Spot
Venturing a bit further from Wilder Ranch, about a 20-minute drive, you'll land at the intriguing Mystery Spot. Yielding an array of oddities and puzzling activities, this gravity hill area has been baffling visitors since its inception.
Break away from conventional landscapes. The Mystery Spot imbues a sense of peculiar charm, with gravity-defying features and illusionary tactics hiking the intrigue quotient. A perfect complement to your Wilder Ranch visit.
Opt for a combo of open-air exploration and brain-bending curiosities. The legendary Mystery Spot, just a short dash from Wilder Ranch, adds a pinch of thrill to your eco-tourism weekend. Expect the unexpected at every place, making your rural-urban getaway memorable!
Henry Cowell Redwoods State Park
Just about 25 minutes' drive from Wilder Ranch State Park lies the spectacular Henry Cowell Redwoods State Park, a splendid chaser to your main course of exploration. Enjoying both parks in a single weekend guarantees the perfect blend of whimsical woodlands and coastal delights for your family outing.
Think towering redwoods, walking trails softly blanketed with pine needles, streams humming gently, and plenty of picnic spots. Henry Cowell Redwoods State Park is the cherry on top to your Wilder Ranch escapade.
Nestling in the embrace of ancient trees after a full day exploring Wilder Ranch breathes new life into your weekend getaways. The diverse sceneries in both parks break the monotony and recharge your spirit.
Cut the commute time during your weekend by visiting both parks in a lineup. A dose of the refreshing cragged coastline at Wilder Ranch, followed by serene forest walks in Henry Cowell Redwoods State Park, is your recipe for an invigorating weekend respite.