The church bells are ringing, the choirs are singing – the Real Estate market recovery is here, and it's real! That's what we're told by the headline news, anyway – but what do the numbers say in our little slice of the market?
The chart for Santa Cruz county shows a market that looks to have peaked in April, and has been in retreat since then. Of course, April wasn't that long ago and it's perhaps a bit too soon to call it a trend, except, there is something else happening that has alarm bells sounding: interest rates have risen at an unprecedented rate – up about 1% in a single month. Check out this story from CNBC with all kinds of attention grabbing sentences like "The housing recovery is in for a major pause due to higher mortgage rates."
What's YOUR home worth in today's market?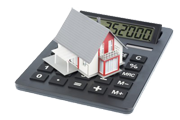 Home prices have risen steadily in this year – how much is YOUR home worth in today's hot market? Find out now with this free, quick, and accurate tool!
I don't want to sound alarmist. Rising interest rates don't mean that the market is going to fall off a cliff. The market is far healthier than it was between 2007-2011. In fact, for another couple of months or so, buyer demand should remain strong as those who can work to buy a home and lock in a low interest rate before rates rise any further. But rising rates are sure to have a corrosive effect on home prices (especially at the middle and lower end of the market), absent strong gains in employment and wages to offset the higher costs of borrowing.
Rates have risen for two reasons: Ben Bernanke's affirmation that the U.S. Federal Reserve does intend to print less money going forward, and then the U.S. jobs numbers for June 2013, which showed surprising strength in employment. The market is expecting increased demand for money, resulting in a higher interest rate. Nobody knows for sure what mortgage rates will do, but it seems that below-4% is a thing of the past, and we'll be looking for rates to be consistently above 5% by next year. We're not too far off from that level today.
This all points to something I've been saying for a while, that is: we are not likely to experience a "V" shaped recovery, with a quick exit from the bottom of the market and back to the dizzying heights of 2007. I think the market will go up, as it has done, and then back down again, and up, and down, until the negative equity which so many homeowners suffer from has been largely wrung from the housing stock, and strength returns to the mainstream economy, where most homeowners and would-be homebuyers live.
As always, to get the full, PDF version of my newsletter, broken down by different areas of the county and also by Single Family Residences as well as Condominiums, click here to download the full the Santa Cruz Real Estate Market Trends newsletter.
Please share my newsletter with anyone you think is interested in what's going on with the Santa Cruz real estate market – just send them the link and they can sign up to receive an e-mail every month when the newsletter is ready. Thanks so much for taking the time to read this – I hope to hear from you soon!