Hard to believe, but 2013 is already drawing to a close – in another few weeks, we'll be welcoming 2014 with open arms – and maybe a sigh of relief!
It's a time of year when people start thinking less about real estate. Listings which haven't sold often expire or are canceled, many buyers hang up the search for the holidays. It's a time when a lot of people think the market starts to cool. If that's what YOU are thinking – I invite you to think again.
Would you believe that in October, the Santa Cruz real estate market hit a new median high price for the year? The median price for single family homes in Santa Cruz county hit $659,500 in October – a "twinge" over the peak we hit in April of $645,000. Presently, the median home price is up an amazing – get this – 29.7% from where it was last year – although up only about 3% from the month prior.
Interestingly though, sales volume was down sharply – only 136 homes closed escrow in October, down 17.6% from the month before, and down a hearty 25.3% from a year ago in October 2012. What's also down is pending home sales: just 244 homes were in escrow at the end of October, down 9.6% from a month prior, but down significantly – 30% – from a year ago. Inventory, however, also decreased – down 3.7% from a month ago and up only about 10% from a year ago.
What's YOUR home worth in today's market?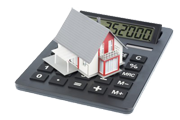 Home prices have risen steadily in this year – how much is YOUR home worth in today's hot market? Find out now with this free, quick, and accurate tool!
In case you're keeping track – the median home price in Santa Cruz county hit an all-time high in May of 2007 of $784,500. A few years back – we're talking 2009, 2010 – there were numerous forecasts indicating that it would be 2019-2022 before we saw prices return to the peak we had reached in 2007. At the time those forecasts were being bandied about, they were shocking – but credible. There was a widespread belief that prices had simply risen too high, affordability was too low and that those sky-high prices were not sustainable.
For a while there, when prices were at their recent nadir (2009), homes actually looked to be relatively affordable in Santa Cruz. A lot has changed in just a few years. Our friends at the California Association of Realtors have a page detailing home affordability for California – and while they don't give a figure for Santa Cruz, the Bay Area average is that 21% of households can now "afford" a median-priced home (with a 20% down payment) – and that as a whole, housing affordability stood at 32% in California. Back in Q3 2007, for purposes of comparison, affordability was measured at 11% in California state-wide.
Prices have come roaring back to such an extent that a growing number of voices are asking if we are back in another housing bubble. This article on Bloomberg Business Week for example states that home values are more than 20% over valued in coastal California. This article echoes something I've been saying for a while now: what happens if interest rates rise at this point, with prices already so high?
What indeed? Perhaps nothing, as rising interest rates should coincide with increased demand for money, such as we'd experience in an economy which continues to strengthen and, theoretically, an increase in real wages. There are a lot of "ifs" in there, and only time will tell. But the low number of closings this month and last, coupled with the low number of pending sales, indicate that we may be looking at a drop in prices over the winter.
Lower prices over the winter are not too surprising, and if the economy holds steady, it seems that at least the first half of 2014 is likely to continue being a strong seller's market. The same heady elixir of low supply, low interest rates, and strong demand will continue to drive this seller's market for a while yet, until one of those ingredients finally gives out. Just how long that will take is anyone's guess.
As always, to get the full, PDF version of my newsletter, broken down by different areas of the county and also by Single Family Residences as well as Condominiums, click here to download the full the Santa Cruz Real Estate Market Trends newsletter.
Please share my newsletter with anyone you think is interested in what's going on with the Santa Cruz real estate market – just send them the link and they can sign up to receive an e-mail every month when the newsletter is ready. Thanks so much for taking the time to read this – I hope to hear from you soon!