The Christmas decorations are on the shelves now at Costco and Target, so that can mean only one thing – Halloween is right around the corner! Summer is now officially behind us, and we're enjoying the glorious days of October that Santa Cruz is famous for…although mother nature has thrown in a few really cold days that make me wonder what she's got in store for the winter…
Although we've had a few chilly days of late, it hasn't affected the real estate market too much. The median home price in September 2012 was $640,000 – that's less than 1% below this year's market peak in April, when the median price hit $645,000. Was it only a couple-few months ago I was saying that the market had peaked and prices were not likely to rise any further in the short term? Well, the market continues to defy gravity – what I figured had to be a market spike caused by low inventory, low interest rates, and pent-up demand turns out to be…something more of a surge than a spike, and it's a surge that really, at this point, doesn't show any signs of receding.
The September median price of $640,000 represents an increase of 12.2% over the median price from September a year ago, and a 1.7% increase from the median price in August the month before. But there's another number to look at: the number of homes which sold, which dropped down to 165. That's down 14.9% from the prior month's 194 homes, and down 12.7% from a year ago.
Even though the number of sales dropped, and inventory has risen – this continues to be very much a seller's market. The average sales-to-list-price ratio was 99.5% – lower than it's been in the recent past, but still indicative of a strong seller's market. Not only that, the average "days on market" for sold homes was only 38 – which means homes are selling 33% faster than they were a year ago, when the average days on market in September for sold homes was 57.
What's interesting (to me, at least) is that inventory has also climbed – we closed out September with 459 units available for sale – up barely 1.1% over the previous month, and up 4.6% from a year ago…so even though buyers had more to choose from compared to both a month and a year ago, they bought fewer homes – and prices stayed steady nevertheless. What's all that about?
What's YOUR home worth in today's market?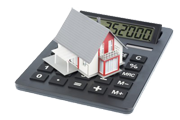 Home prices have risen steadily in this year – how much is YOUR home worth in today's hot market? Find out now with this free, quick, and accurate tool!
Well, here's a little newsflash for you: markets are not necessarily rational in the short term. As any "long time" reader of my newsletters and blogs know, I often cite the Case Shiller index. One of the index's creators, Robert Shiller, has been in the news of late because he just won (part of) the Nobel Prize for Economics. Shiller's ground-breaking insight is that, in fact, markets are not completely rational and that markets are driven in part by human psychology, not entirely by economic fundamentals.
Looking at my nifty chart above, which shows the median home price charted against the absorption ratio – we see that the median price has been climbing back upward since June of this year…even as the absorption ratio has been increasing. If the absorption ratio keeps increasing (that is, increasing numbers of homes are being listed for sale faster than they are being purchased), it seems inevitable that the median price will decline. However, at this point, it seems that the psychology of the market hasn't caught up with these underlying changes. Let's see what happens as we get deeper into the fall and winter.
As always, to get the full, PDF version of my newsletter, broken down by different areas of the county and also by Single Family Residences as well as Condominiums, click here to download the full the Santa Cruz Real Estate Market Trends newsletter.
Please share my newsletter with anyone you think is interested in what's going on with the Santa Cruz real estate market – just send them the link and they can sign up to receive an e-mail every month when the newsletter is ready. Thanks so much for taking the time to read this – I hope to hear from you soon!