It seems that a perennial theme around California living is that people are often thinking about leaving the state.  You've probably heard the joke:  "Will the last person to leave California please turn out the lights?"
As a native-born Californian, I can't say I identify with the pull of other states.  I've been all around this country, and all around the world – and there are plenty of great places to live, but none of them hold a candle, for me, to what California has to offer.  And I know most Californians feel the same way. I know, because I talk to dozens of them every week, following up with people who have at one time or another expressed an interest in selling their homes.
The single biggest impediment for people who want to cash in on their home equity is:  where would I go?  Most people do not sell for that simple reason – they don't know where else they'd rather live.  Many of them though – at least half, I think – still want to remain in California, with some-day plans to move to Sacramento or somewhere in the Sierras for example.
However, many Bay Area homeowners are enticed by the notion of selling their home in California, cashing in on a mountain of equity, and moving to a lower-cost state and buying a home for cash.
Most-Mentioned States to Move to from California
From a financial perspective, some states that make sense for Californians to move to are:
Texas – Texas has no state income tax, which can result in significant savings for high-income earners. It also has a low cost of living, especially when compared to California.
Nevada – Nevada has no state income tax, which combined with its low cost of living, can result in significant savings for residents.
Arizona – Arizona has a lower cost of living than California, with a warmer climate and lower housing costs.
Oregon – While Oregon does have state income tax, it has a lower cost of living compared to California and a thriving tech industry, which can provide job opportunities.
Washington – Washington also has a state income tax, but it has a thriving tech industry, a lower cost of living compared to California, and beautiful natural landscapes.
Most Affordable States for Californians to Move To
Those five are the states that I hear most-often cited as states where people from California and the Silicon Valley are considering moving to.  However, the San Jose Mercury News recently published an article that offers a deep analysis of which states truly make the most sense financially for Californians to move to.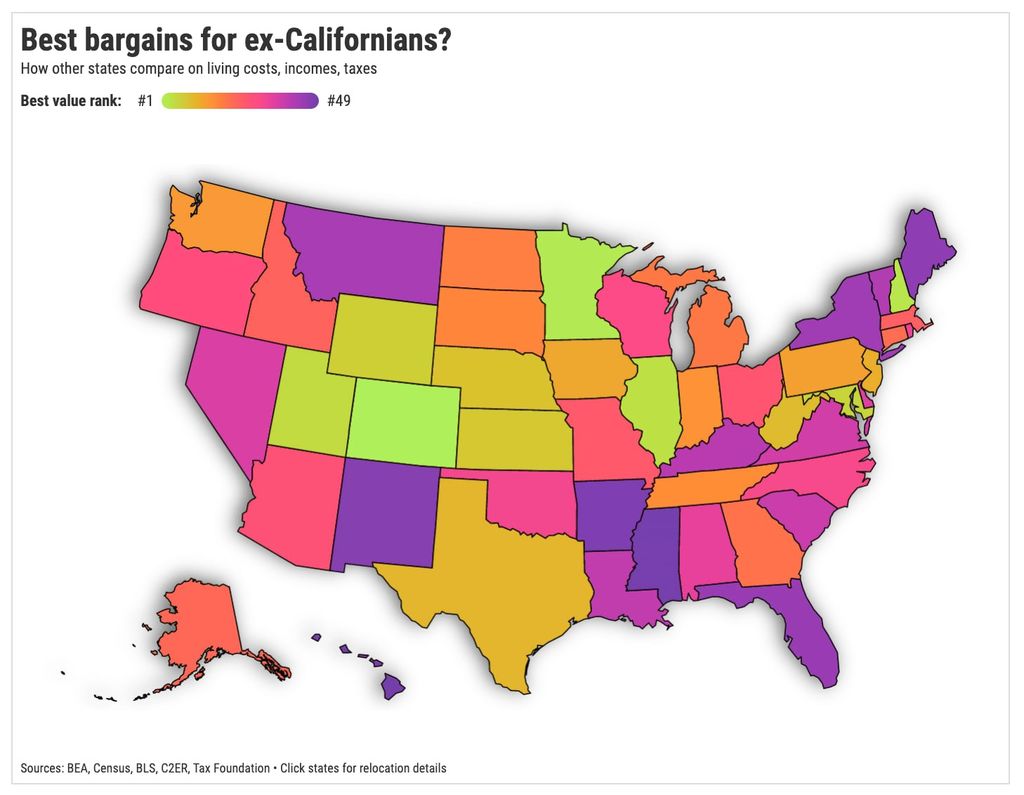 Here's what the article's author has to say in terms of which states specifically make the most sense financially for Californias to move to:
It's important to remember that moving to a new state can impact your financial situation in many ways, so it's essential to carefully consider all the factors and make an informed decision.

The Centennial State blends top-shelf pay with a slightly above-average cost of living. My spreadsheet says that's a life worth $119 for every $100 in California.

Next best deals were in Minnesota and New Hampshire at $117. Then comes Illinois at $116, Utah and Maryland at $115, Wyoming, Kansas and Nebraska at $113 and West Virginia at $112. There's a middle American vibe within this list.

And tropical beauty aside, Hawaii ranks last as a $73 value for $100 in California. It was one of 12 states where this math showed California was a better financial bet.
Making the decision to leave California is one that needs to be made very carefully.  I've spoken with many people who left the state only to end up missing it, and wishing they could come back.  But coming back to California can be challenging, because buying back into this market can be cost-prohibitive, especially if you haven't been accumulating wealth significantly while you've been out of state.
If, however, after sober reflection you've decided that moving out of state makes the most sense for you, then I encourage you to get a copy of my special report – the top relocation destinations for Bay Area homeowners.  This report explores where people specifically from the Bay Area are moving to, and why.